US charter companies Wheels Up and Delta Private Jets (DPJ) have combined to create one the largest business aircraft operations in the USA with a fleet of 190 jets and turboprops.
The deal announced in December and scheduled to close in the first quarter of 2020, will see DPJ parent company Delta Air Lines acquire an undisclosed stake in Wheels Up and combine its 70-strong business jet inventory with the New York-headquartered membership-based operator's fleet of some 120 Textron Aviation types. Wheels Up's line-up consists of Beechcraft King Air 350i twin-engined turboprops, Citation Excels/XLSs, Citation Xs and Hawker 400XP business jets.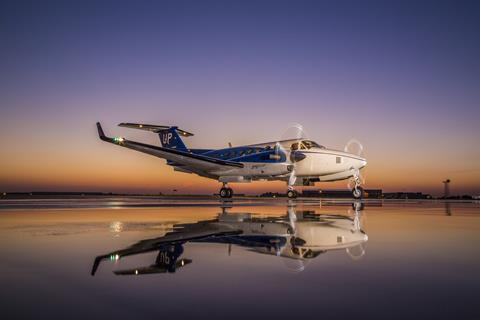 Speaking to CNBC's Squawk Box on 9 December, Delta Air Lines chief executive Ed Bastian says the deal with Wheels Up will allow its business jet charter subsidiary to expand its offering and explore new growth opportunities.
"[The partnership] is a way for us to extend our brand and extend our ability into a new space," says Bastian. "We're not going to have it stuck, as DPJ is, kind of under mother Delta. It's going to be alongside Delta, so that we can enjoy the benefits and have a lot more transparency and growth opportunities for both brands."
These "opportunities" will arise, Bastian says, through "the democratisation of air travel" – driving aircraft utilisation by making the fleet widely accessible and affordable to consumers.
Wheels Up is developing a global digital charter marketplace which allows members to view, book and pay for flights or seats on many thousands of "safety vetted and verified" aircraft.
Kenny Dichter, Wheels Up founder and CEO says with Delta's "scale" and large customer base the platform will eventually become the "Uber of the private jet market".
Dichter describes Delta as the largest of the company's four investors and its endorsement gives "incredible validation" to the Wheels Up brand.
He says there are "huge opportunities" for both parties from the merger.
Over 90% of Wheels Up 7,700 members fly commercially and also use private aircraft on an ad hoc basis, Dichter notes, which will drive business to the Delta fleet. Conversely, Wheels Up's King Airs are the "logical last mile solution for all of Delta customers", he adds.
Wheels Up was founded in 2013 and has flown more than 400,000 passengers to date, it says. The company plans to grow its membership base to over 10,000 within two years.