HAPSMobile plans to flight test its high-altitude, pseudo satellite, the HAWK30, at New Mexico's Spaceport of America.
The flying-wing unmanned air vehicle (UAV) is solar-powered and designed to stay aloft for six months. By flying in the stratosphere at about 65,000ft altitude, it is able to transmit cellular data over an area of about 3.1 million ha (7.8 million acres). The UAV is being pitched as an alternative to cellular towers or communications satellites.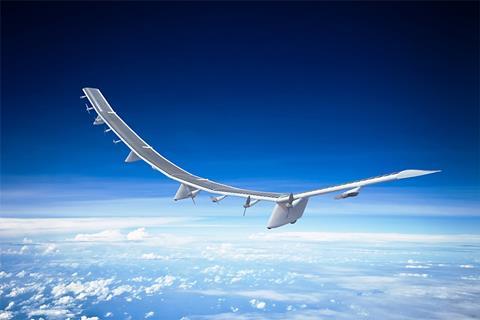 The aircraft made its inaugural flight in September 2019 at NASA Armstrong Flight Research Center in Southern California.
HAPSMobile is a startup that is majority-owned by telecommunications firm SoftBank of Japan and is minority-owned by UAV manufacturer AeroVironment of Southern California. AeroVironment builds the HAWK30 in Simi Valley, California. The company has built a number of long-endurance, solar-powered flying wings, including the Helios Prototype for NASA.
The New Mexico Economic Development Department is subsidising HAPSMobile's presence at the Spaceport with $500,000. A lease was signed in March 2020, it says.
Located in southern New Mexico, Spaceport America is already home to Virgin Galactic, SpinLaunch, AeroVironment and Up Aerospace. It is an FAA-licensed rocket launch complex surrounded by 1.5 million ha of restricted airspace.
HAPSMobile says it plans to conduct low-altitude and high-altitude tests at the Spaceport America range.
The company had planned by 31 March 2020 to ship Hawk30 to the Hawaiian island of Lanai for further testing in the Pan-Pacific UAS Test Range Complex. The firm says it will still use that test range, though it did not give details of its plan.
The company was building two examples of the HAWK30 prototype.
Correction: The article was changed on 16 June to show that HAWK30's first flight was in September 2019, not September 2020.
Updated: The article was changed on 16 June with additional context from HAPSMobile.


Garrett Reim is a military aviation reporter based in Los Angeles. He reports on military aircraft manufacturers and operators in North and South America. Send him your confidential tips, press releases and story ideas via garrett.reim@flightglobal.com. Follow him on Twitter via @garrettreim.