2Excel Aviation and Israel Aerospace Industries (IAI) have demonstrated the latter's Maritime Heron unmanned air vehicle (UAV) in pursuit of UK requirements including supporting civilian search and rescue (SAR) operations.
Conducted earlier this year from West Wales Airport in Aberporth, the series of flights involved "beyond-visual-line-of-sight maritime search and ISR [intelligence, surveillance and reconnaissance] scenarios," IAI says. The activity was performed with "in-person and virtual observers from the UK Ministry of Defence, government and the civil sector", it adds.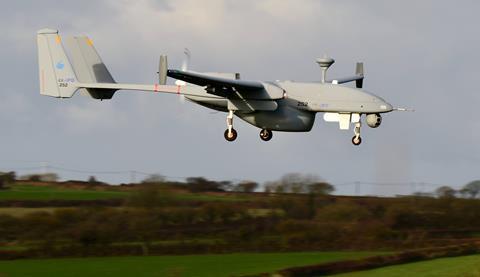 The medium-altitude, long-endurance (MALE) UAV carried a payload including a multi-mission radar and electro-optical/infrared (EO/IR) sensor, plus an automatic identification system for surface vessel detection.
"The [Maritime Heron] system demonstrated that it is highly capable in missions including search and rescue, border protection, fisheries patrol, safety at sea, small boat detection, surveillance, and other activities," the Israeli airframer says.
IAI says its Starlight data exploitation tool – which features artificial intelligence capabilities – was employed in the ground control station during the flights, and used real-time sensor inputs to "produce actionable intelligence, insights and maritime awareness".
Moshe Levy, general manager of IAI's Military Aircraft Group, describes the Maritime Heron's performance as having been an "overwhelming success", with 100% of its planned scenarios achieved.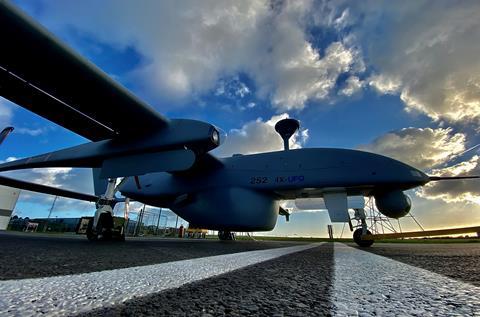 "2Excel and IAI together demonstrated they can operate a very capable MALE platform in the UK within the constraints of the current regulatory environment," says 2Excel director Andy Offer. "The feedback from the UK Civil Aviation Authority was very positive and we feel confident about the roadmap for future unmanned operations across our suite of contract air services," he adds.
2Excel was among four bidders shortlisted last year to contest the UK second-generation search and rescue (UKSAR2G) programme's Lot 3 requirement, which seeks 'Fixed-wing, manned and potentially unmanned [aircraft] for rapid search, surveillance and pollution identification'. The company currently performs such duties under a contract with the UK Maritime and Coastguard Agency, using two adapted Beechcraft King Air 200s. It faces competition for the requirement from the European arm of CHC Helicopter and Elbit Systems UK, after a fourth contender, Serco, withdrew from the contest.
Selection decisions on the UKSAR2G programme, which also seeks new fleets of short- and long-range SAR helicopters, are due to be announced later this year.
Separately, 2Excel last month announced an order for two Diamond Aircraft DA62 MPPs. To be operated by its Special Missions unit, they will be equipped with Trakka Systems EO/IR sensor turrets.