The A400M's potential for use as an aerial firefighting asset has been put to the test, with Airbus conducting an initial demonstration campaign in collaboration with the Spanish air force.
Assessments of a firefighting demonstrator kit have been conducted using a development aircraft in daylight conditions, Airbus Defence & Space says. These have included performing drops of up to 20t of water from a minimum operating height of 150ft and at just 125kt (231km/h).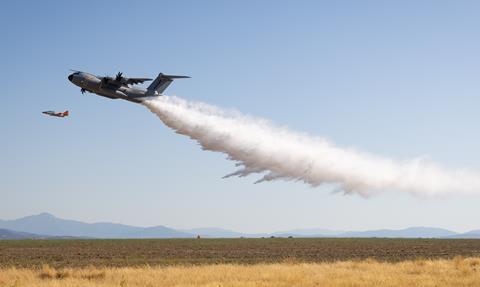 "The main objective of the campaign is to validate the drop water quantity and time as well as the ability of the A400M to carry out this new role with the kit," the company says.
No permanent airframe modifications are required to allow the Atlas to conduct the activity. Instead, the aircraft is equipped with a roll-on/roll-off kit including a cargo hold water tank. From this, two "flood pipes" are positioned, enabling its load to be expelled from the end of the cargo ramp within less than 10s.
"The development of this prototype and the tests have been carried out in close collaboration with the 43rd Group of the Spanish air force, as well as European authorities in firefighting operations and the Ministry for Ecological Transition and Demographic Challenge," says Airbus Defence & Space.
"In addition to the development of the production version of this kit, Airbus will analyse this operation also in night time conditions," it says.
"We strongly believe the A400M can play a vital role in the fight against the ever increasing threat posed by wildfires," says Airbus Defence & Space chief executive Mike Schoellhorn.
Airbus says it has so far delivered 109 A400Ms, with the tactical transport in operational use for eight nations: Belgium, France, Germany, Luxembourg, Malaysia, Spain, Turkey and the UK.
Cirium fleets data indicates that the Spanish air force currently operates 13 of the type, from an eventual total of 27.

Craig Hoyle joined Flight International in 2003, and has edited the now monthly title since 2015. He has reported on the UK, European and international military aviation sector for more than 25 years, and produces our annual World Air Forces directory.
View full Profile