Airbus Defence & Space is to work with its German air force customer to trial flights of the A400M running on blends of up to 50% sustainable aviation fuel (SAF) in the near term.
Berlin, which has 53 examples on order, is the first A400M operator to commit to a "gradual transformation" under which it will switch to SAF use for its fleet, says the airframer.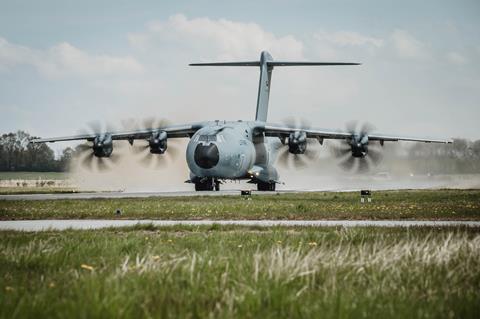 Supporting that effort, Airbus has begun a multi-year programme that seeks to achieve compatibility with 100% SAF in the longer term.
First the manufacturer will later this year test an A400M with one of its four EuroProp International TP400-D6 engines running on a 50% SAF blend. That will allow Airbus to "better assess the aircraft's overall behaviour", it says.
A follow-on trial with all four engines running on 50% SAF should then take place in 2023, it adds, leading to its approval for customer use.
In addition, Airbus, the A400M partner nations and European procurement body OCCAR are "engaged in initial discussions" to define the "roadmap towards the certification and operational use" of 100% SAF.
"Working closely with the industry we are eager to finally certify the A400M as well. Looking into the future we are supporting all activities to introduce SAF for our entire fleet including fast jet aircraft," says Lieutenant General Ingo Gerhartz, chief of the German air force.
"The Luftwaffe's objective is to launch a transformation towards sustainability of their fleet. Their mission is ours. We are gladly supporting these important efforts, not only for the A400M but their entire fleet of Airbus aircraft, ranging from VIP transport to fighter jets," adds Michael Schoellhorn, chief executive of Airbus Defence & Space.
Airbus in early 2022 performed the first flight of its C295 testbed; trials of a 50% SAF blend on the platform will follow later this year and will be followed by full SAF flight in 2023.

Dominic Perry is deputy editor of Flight International but also contributes extensively to flightglobal.com. Although specialising in the coverage of the helicopter industry, he has written on most topics in aerospace – be they commercial, defence or business aviation. In addition, there has been an increasing focus on the decarbonisation of the industry and zero-emission flight initiatives.
View full Profile