Airbus Helicopters maintains there is no need to produce a 'proof-of-concept' H175M at its proposed Broughton assembly line for the super-medium-twin as it chases a key contract from the UK.
Broughton in North Wales currently builds wings for the airframer's commercial aircraft line-up, but the group says it will set up a final assembly line at the site for the H175M should the type be selected as a replacement for the Royal Air Force's fleet of Puma transports.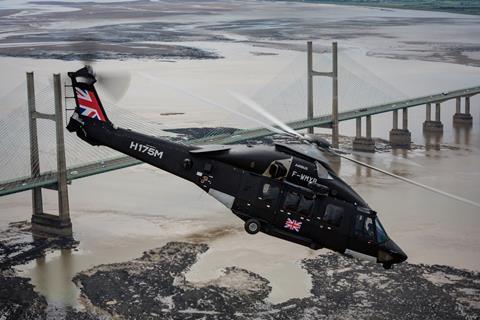 Arch-rival Leonardo Helicopters has already established an initial production capability at its plant in Yeovil, southwest England for the AW149, its candidate for the UK's New Medium Helicopter (NMH) requirement.
But Bruno Even, chief executive of Airbus Helicopters, insists there is no need to follow suit.
He points to the "competencies" already established in Broughton on the back of the company's "strong industrial footprint" for commercial aircraft.
"The idea and the objective is to leverage all these skills and competencies in order to be in position to produce as quick as possible the H175M in Broughton," he said during a 25 January media briefing.
"So we can be quick, and we will take the decisions we need in order to be able to deliver the helicopter on time, in line with the customer expectation," he says.
Service entry for the NMH is provisionally pegged for 2025 under timelines disclosed by the UK Ministry of Defence (MoD).
"There is no need to have a sort of proof of concept," he says. "The assembly of a helicopter is at the core of our competencies."
Even says the establishment of the new final assembly line would create up to 1,000 jobs in the UK – 400 at Broughton alone – and would build helicopters both for the NMH programme and those for export. Design of the assembly line is "progressing", says the airframer.
"We really believe that the 175 military version will perfectly address all the needs of military customers for troop transportation from beyond the UK – we see a great future for this [helicopter] on the export market."
And while declining to directly address Leonardo's activities, Even adds: "I have seen that they are also producing this helicopter [the AW149] in Poland, so for me it is not clear in which direction they are moving." Warsaw has ordered 32 AW149s, which will be assembled domestically.
Under the NMH programme, the UK MoD is seeking up to 44 helicopters to replace both the 23-strong Puma fleet and smaller inventories of three other types. Sikorsky is also offering the S-70M Black Hawk for the requirement.

Dominic Perry is deputy editor of Flight International but also contributes extensively to flightglobal.com. Although specialising in the coverage of the helicopter industry, he has written on most topics in aerospace – be they commercial, defence or business aviation. In addition, there has been an increasing focus on the decarbonisation of the industry and zero-emission flight initiatives.