Antonov has completed construction of the first An-178 fuselage for the Ukrainian ministry of defence, one of three aircraft destined for the military.
The fuselage of the -100P variant was unveiled at a ceremony attended by senior government officials, including the country's armed forces chief, as well as representatives of industrial partners.
Antonov says the structure was finished two week ahead of schedule. The contract with the Ukrainian defence ministry was signed at the end of December last year.
"Less than five months have passed since the contract [signature]," says Antonov head Sergei Bychkov. "And now we are present at the event."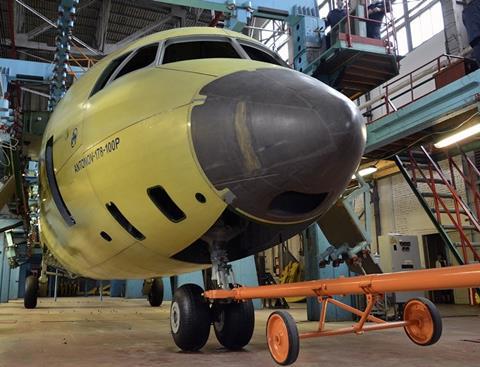 Wings and empennage sections for the aircraft are still undergoing manufacture ahead of final assembly, which Antonov aims to complete by the end of the year.
"Production of parts and sections for the second and third aircraft has begun," it adds.
The An-178 is a multi-purpose twinjet transport based on the An-148/158 regional airliner family, featuring a payload capability of 18t, and is designed to transport personnel, weapons and light vehicles as well as regular cargo.
It carried out its maiden flight six years ago, in May 2015.