Boeing and the US Navy have launched an F/A-18E Super Hornet using a ski-jump ramp at NAS Patuxent River, Maryland, as the company eyes an Indian navy fighter requirement.
The company says the work indicates that the Super Hornet "would do well" operating from India's short take-off but arrested recovery (STOBAR) aircraft carriers.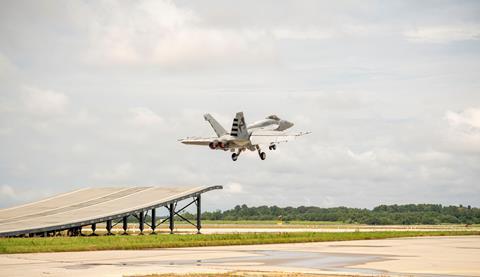 "The first successful and safe launch of the F/A-18 Super Hornet from a ski jump begins the validation process to operate effectively from Indian navy aircraft carriers," says Ankur Kanaglekar, India fighter sales lead for Boeing.
"The F/A-18 Block III Super Hornet will not only provide superior war fighting capability to the Indian navy but also create opportunities for cooperation in naval aviation between the United States and India."
A video on Instagram shows the aircraft launching, although it appears to be in a 'clean' configuration with no payload. The work followed launch simulations by Boeing.
Boeing had already discussed plans to test the Super Hornet on a ski-jump. At the Singapore Airshow in February, Jeff Shockey, vice-president global sales and marketing at Boeing Defense, Space & Security, said ski-jump trials would take place in the first quarter of 2020.
"The Indian navy is evaluating its fighter options," adds Boeing. "If it selects the Super Hornet, it would benefit from billions of dollars invested in new technologies by the US Navy and others. Those technologies include advanced networking, longer range through conformal fuel tanks, infrared search and track, and a new advanced cockpit system."
The Indian navy has one operational carrier, the 45,400t INS Vikramaditya, which can operate 26-36 RAC MiG-29K fighters, as well as 10 rotorcraft, namely the Kamov Ka-31 airborne early warning and control (AEW&C) helicopter, and the Ka-28 anti-submarine warfare helicopter. The ship was derived from the Soviet Union carrier Baku.
A second vessel, the 45,000t Vikrant, is India's first indigenous carrier. After years of delays this is finally conducting sea trials.
Both Vikramaditya and Vikrant are STOBAR carriers.
A third, far more ambitious, carrier is planned. The 65,000t Vishal will potentially be a catapult-assisted take-off but arrested recovery (CATOBAR) vessel that employs an electromagnetic launch system.
A major of advantage of CATOBAR vessels, such as those operated by the US Navy and France's Charles de Gaulle, is that aircraft can launch with far greater payloads than they can from STOBAR ships. In addition, CATOBAR vessels can deploy a broader range of fixed-wing aircraft, namely the turboprop-powered Northrop Grumman E-2 Hawkeye AEW&C aircraft.