Germany's Lufthansa Technik has given a flavour of the cabin installed in the Airbus A321LR handed over to the country's air force, as a second aircraft undergoes similar conversion.
Delivery of the initial aircraft – MSN10613, designated 15+10 – took place at the ILA air show in Berlin. The second airframe, with the identifier 15+11, will be MSN10528.
Both are fitted with CFM International Leap-1A engines.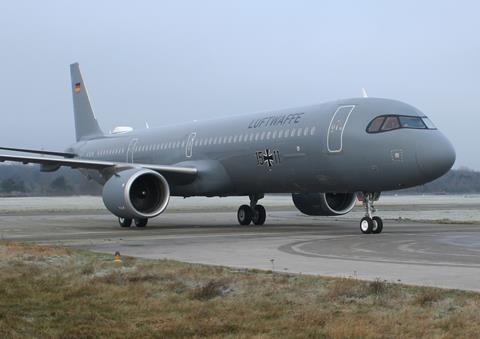 While the interior of the military aircraft was off-limits at the show, Lufthansa Technik has provided an indication of the configuration – as well as the medical evacuation cabin which is still under development for introduction next year.
According to the air force, the aircraft will primarily transport military personnel and materials, and serve as a training platform, but could also be recruited into political or parliamentary service if the so-called 'white fleet' of government aircraft is unavailable.