Collins Aerospace and Indonesian Aerospace have entered an agreement to modernise Jakarta's Lockheed Martin C-130H tactical transports.
The project will see 11 aircraft receive Collins's Flight2 digital cockpit, says Collins.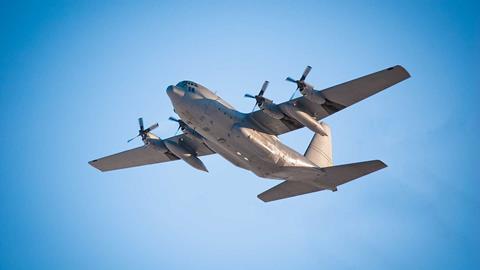 "Modernizing to the Flight2 system provides the Indonesian Air Force with a suite of communications, navigation and surveillance equipment [and] seamlessly integrates new-generation avionics with legacy sensors, radios, autopilot and aircraft systems that will increase operational and mission efficiency," says Collins business development executive Martin Hoare.
"Included in the avionics upgrade is a full glass cockpit with new primary flight displays that provides commonality to many other C-130 users as well as commercial aircraft."
Following the upgrade work, the aircraft will have modern glass cockpits, and comply with the latest ICAO standards. Collins adds that Flight2 is highly customisable, and that 1,000 Flight2 upgrades have taken place globally across a range of aircraft types.
"This collaboration shows PTDI's readiness to implement the work of the Indonesian Air Force's C-130 modernisation program, especially in the avionics upgrade," says Indonesian Aerospace president director Gita Amperiawan – Indonesian aerospace is also known as PTDI.
Separately, Indonesian Aerospace announced that it and Honeywell have signed a deal to provide Indonesian C-130s with the US firm's Military Airborne Collision Avoidance System.
Cirium fleets data indicates that the Indonesian air force operates 11 C-130Hs with an average aircraft age of 43.6 years, as well as six C-130H-30s with an average age of 41.8 years. In addition, it has six C-130Bs, one KC-130B, and four L-100-30s.
Jakarta also has orders for five C-130Js.