Croatia's air force has begun decommissioning 14 Mil Mi-8 transport helicopters intended for transfer to Ukraine via Poland.
The Slobodna Dalmacija publication on 25 February reported that the first rotorcraft have arrived at the Aeronautical Technical Centre (ZTC) in Velika Gorica, where they will have their Croatian air force markings removed and undergo inspections and repairs.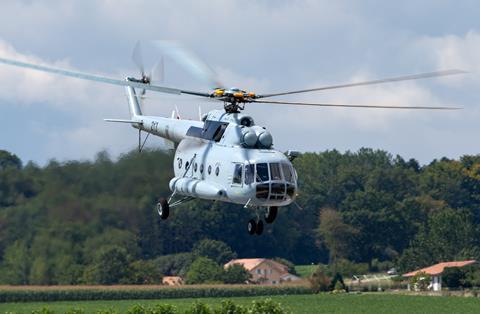 Seven airworthy helicopters will be flown to Poland in March, the report says, with the remaining examples to be disassembled and transported by road. It is unclear if the latter assets will then be restored to operational condition, or used as a source of spare parts for the Ukrainian military.
Cirium fleets data records Kyiv as having 81 Mi-8-series helicopters: 58 army and 15 air force examples, plus eight operated by its Border Guard. Its true equipment strength after one year of war against invading Russian forces is not known, however.
The government in Zagreb has not commented on the Slobodna Dalmacija report, having classified all information about its military aid to Ukraine. However, Croatian Prime Minister Andrej Plenkovic last November announced its intention to donate 14 transport helicopters to the nation.
An Mi-8 transfer would leave Croatia reliant on operating 10 Mi-171Sh rotorcraft, acquired new from Russia in 2007-2008 via a $65 million deal representing part of a $185 million debt repayment to the Balkan nation by Moscow.
Overhauled by ZTC in 2018-2019, the aircraft could remain in operational use for the NATO nation until around 2026. They will be replaced by up to 12 Sikorsky UH-60M Black Hawks, the first four of which have already been introduced.