Dassault and Airbus have finally signed off on the next phase of the next-generation fighter they are developing on behalf of France, Germany and Spain, but first flight will now not be before 2029.
Negotiations between the pair had been deadlocked for months as they attempted to reach an agreement on Phase 1B of the New Generation Fighter (NGF), part of the broader Future Combat Air System programme (FCAS).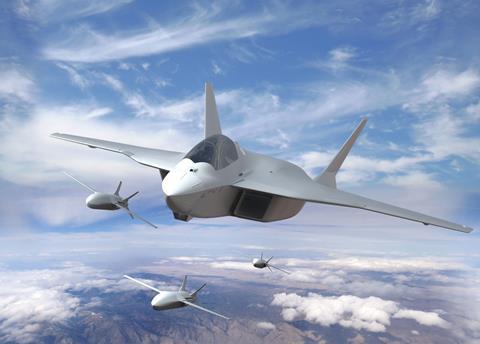 Detailing the pact on 1 December, Dassault chief executive Eric Trappier said the project had been "at a standstill" since the summer of 2021.
Talks on Phase 1B – which will see the design and construction of an NGF demonstrator – should have concluded in December last year, allowing a maiden sortie in 2027.
"We'll now be able to move into the next phase of studies, known as 1B, to prepare for the development of a demonstrator, which should fly around 2029," says Trappier.
"We have been confirmed in our role as prime contractor and architect of the aircraft, and we have obtained protection for our industrial know-how and technologies.
"Being the architect of a new fighter aircraft is very motivating for our company, our teams, those of Airbus, our main partner, Indra and our long-standing partners, Safran, Thales and MBDA."
Political consensus on a way forward was recently signalled by the nations, but Dassault has dismissed suggestion that an industrial deal had been reached.
NGF is intended as a successor to the Eurofighter Typhoon and Dassault Rafale for service entry in the 2040s.

Dominic Perry is deputy editor of Flight International but also contributes extensively to flightglobal.com. Although specialising in the coverage of the helicopter industry, he has written on most topics in aerospace – be they commercial, defence or business aviation. In addition, there has been an increasing focus on the decarbonisation of the industry and zero-emission flight initiatives.
View full Profile