Spain has formally ordered the conversion of three former Iberia Airbus A330-200 passenger jets into multi-role tanker transport (MRTT) aircraft.
Modification of the widebody twins will be performed by Airbus Defence & Space at its Getafe site near Madrid.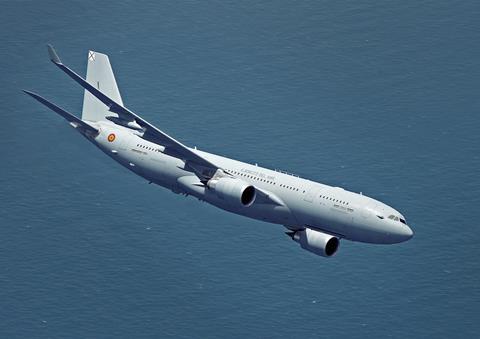 Delivery of the first aircraft to the Spanish air force in a pure-transport configuration is due "in the coming days", says Airbus; conversion to the MRTT configuration will take place in 2024.
Although no details of the exact airframe were released, images posted to aircraft spotting sites suggest it is a 2015-built example, powered by GE Aviation CF6 engines and formerly registered as EC-MIL. Iberia has an additional 14 A330-200s in service, Cirium fleets data shows.
Handover of the first fully converted example is scheduled for 2023, with the third aircraft following in 2025.
All the jets will be equipped with a hose and drogue refuelling system and specialist medical evacuation equipment.
Also included in the contract is training, services and support, and spares provision.
Spain retired its Lockheed Martin KC-130H takers at the end of 2020 and in the interim has used its A400M tactical transport fleet for some refuelling work.
Madrid in late June approved the acquisition of three tanker/transports, allocating €148 million ($174 million) this year, as part of a broader agreement with Airbus.