Six Eurofighter Typhoons from a joint UK/Qatar training squadron commenced a two-week exercise in Doha on 29 November.
"Pilots will be challenged in a range of air-to-air and air-to-surface scenarios, which will put their training to the test," the UK Royal Air Force (RAF) says. This will include operating 12 Sqn's assets "against and alongside" Qatar Emiri Air Force Dassault Rafales and Mirage 2000-5s, it adds.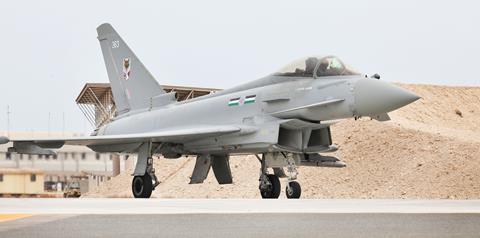 More than 130 RAF personnel are supporting exercise Epic Skies IV, along with their Qatari counterparts.
Ordinarily based at RAF Coningsby in the UK, 12 Sqn has since June 2020 been preparing Qatari pilots and maintainers ahead of future operations with the multi-role type.
"The first of the Qatari pilots to begin flying the Typhoon are eager to put their new skills and training to the test, flying alongside their colleagues in a series of challenging scenarios on home turf," says 12 Sqn officer commanding Wing Commander Chris Wright.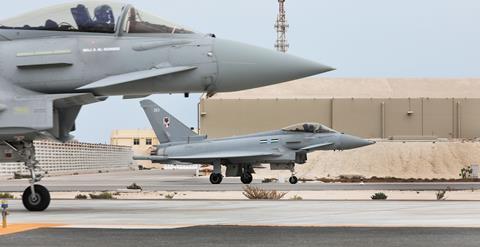 Qatar will introduce a fleet of 24 Typhoons, with final assembly being conducted by BAE Systems in Warton, Lancashire. As part of a £6 billion ($8 billion) acquisition also including personnel training and MBDA-produced air-launched weapons, Doha is also to introduce nine BAE Hawk advanced jet trainers.