The Royal Netherlands Air Force (RNLAF) is to begin operating a trio of newly-delivered General Atomics Aeronautical Systems MQ-9A Block 5 Reapers during missions flown from Curacao in the Caribbean.
General Atomics on 12 April announced the delivery of the three remotely piloted aircraft and two mobile ground control stations (GCS) to the service.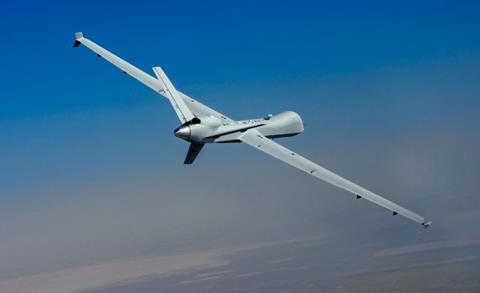 "The RNLAF will begin operating the MQ-9s later this month out of Curacao to provide long-range, persistent surveillance to support missions protecting the Netherlands' national interests," the company says.
"We will operationally test and evaluate the system during our deployment… and expect it to be a valuable asset for the commander of Netherlands forces in the Caribbean," says Lieutenant Colonel Boudewijn Roddenhof, commander of the RNLAF's 306 Sqn.
Offering a new intelligence, surveillance and reconnaissance capability for the NATO nation, the Block 5 Reaper – which has been acquired in an unarmed configuration – can perform missions lasting more than 27h, General Atomics says. It cites a maximum speed of 240kt (444km/h) and an operating ceiling of 50,000ft.
General Atomics was in March 2019 awarded a $123 million Foreign Military Sales contract via the US government to produce a total of four MQ-9As for the Netherlands. The deal also includes four mobile GCS, along with spare parts and support provision.