Embraer and Saab have entered an agreement to work together on business development and engineering opportunities for the C-390 tactical transport and Gripen E fighter.
A memorandum of understanding signed at the LAAD defence show in Rio de Janeiro will see the pair promote the C-390 for the Swedish air force's transport requirements, with Saab equipment integrated into the aircraft.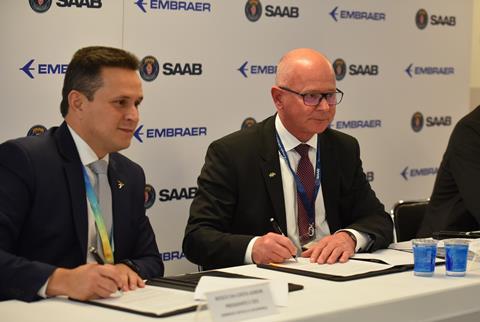 Sweden expressed interest in the C-390 as early as the 2010s. Cirium fleets data indicates that the Swedish air force operates six Lockheed Martin C-130Hs with an average age of 43.9 years.
In addition, the two companies will pursue future sales opportunities for the Gripen E in Brazil and the wider Latin America region. This builds on the pair's existing collaboration on the platform, including a domestic final assembly line for the type at Embraer's site in Gaviao Peixoto.
Brazil was the launch customer for the Gripen E, in 2014 ordering 36 examples, including eight of the two-seat F-model variant, locally designated as the F-39E/F, with the type entering frontline service in December 2022.
"Our two companies have worked together to deliver an outstanding capability for Brazil that will last for decades," says Saab chief executive Micael Johansson.
"This MoU is an important and gratifying step toward growing that co-operation into new areas between Saab and Embraer that goes beyond Brazil, while maximising our existing achievements."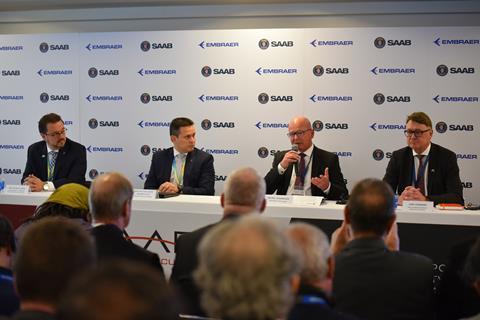 One objective is increasing Embraer's participation in future Gripen contracts. Embraer and Saab will also work together on future fighter studies, which will allow for the Gripen E to serve "out to 2060".
Adds Embraer Defense and Security chief executive Joao Bosco da Costa Junior: "Saab and Embraer are two world leaders in the aerospace segment, recognised for the excellence of their engineering and products. I view this MoU with extreme optimism, as I am sure that the two companies together can further grow their business in various markets around the world."