An Indian air force requirement for a new medium transport aircraft (MTA) has attracted the interest of Embraer and Lockheed Martin, with the former bringing a C-390 Millennium to the show, marking the type's maiden Aero India appearance.
The air force released a request for information (RFI) in February, seeking to identify probable vendors for a transport aircraft in the 18-30t payload class.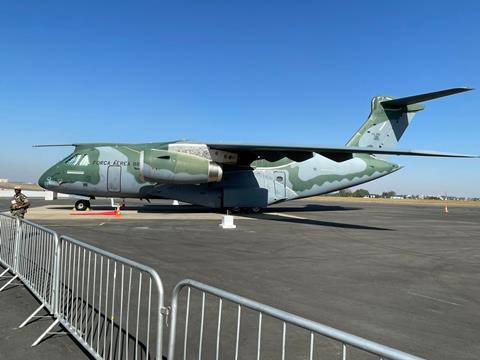 The Indian air force (IAF) has requested a cost breakdown for a production run of 40, 60 and 80 aircraft. The selected type will need to be produced under license in India.
In responses to FlightGlobal, both Embraer and Lockheed say they would participate in the programme.
Bosco da Costa Junior, chief executive of Embraer Defence & Security, says the Brazilian airframer is eager to engage with India on the project: "Without going into the details of business opportunities, Embraer's C-390 Millennium offers a versatile force-multiplier, and we are confident of the benefits it will bring to the Indian air force."
Lockheed says it company has studied the RFI for the MTA issued by the air force, and that the C-130J will meet the requirements specified.
Embraer's C-390 is powered by two IAE V2500 turbofans, while the C-130J is powered by four Rolls-Royce AE2100 turboprops.
A trial evaluation of the shortlisted aircraft will be undertaken in India. Deliveries are to commence within 36 months of contract signature.
The air force operates a range of Western and Russian transport types including the HS-748 Avro, Antonov An-32, C-130J-30 Super Hercules, Ilyushin Il-76 and Boeing C-17 Globemaster III. The air force has been operating C-130Js for the last 12 years, with a fleet of 12 in service.
Hindustan Aeronautics had entered into a partnership with Ilyushin in 2010 to co-design, co-develop and co-produce a Multirole Transport Aircraft. The programme, which was to deliver an aircraft with a payload capacity of 15-20t with 45 destined for the Indian air force, was cancelled in 2017.