Europe's joint project to produce a medium-altitude, long-endurance remotely piloted air system (MALE RPAS) is on track for contract signature early next year, having recently cleared two key milestones.
Jana Rosenmann, head of Unmanned Aerial Systems at Airbus Defence & Space, says a formal bid submitted to partner nations France, Germany, Italy and Spain in early June was followed by "very interesting and very lively discussions" via Europe's OCCAR defence procurement agency.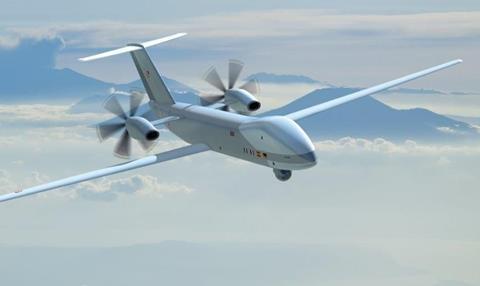 On 19 November, OCCAR announced that a Programme Participating States approval had been reached, meaning that "the necessary contract conditions, prices and performance have been met" to advance the initiative.
Rosenmann says a "formal go" followed on 2 December, and that "all four nations have started their national procurement processes".
"I believe that what we have on the table is a fair and reasonable offer for the customer and industry," she said on 9 December. Both parties are targeting a contract signature in early 2021 for a combined development, production and initial in-service support package deal.
"We are working closely with the nations, and are really happy to see the progress that is being made," Rosenmann says. "Signing the Eurodrone contract will be a huge step forward for Europe in terms of the sovereignty that we will have in our own hands for unmanned flight," she adds.
Under the agreement, a total of 20 systems – each including three unmanned air vehicles (UAVs) – will be delivered. Germany is to be lead operator, with seven systems, with Italy to receive five and France and Spain four each.
A single final assembly line and testing capability will be established at Airbus's Manching plant near Munich. Rosenmann says this was approved "for efficiency purposes, and also cost reasons for our customers". Fuselage production will be undertaken in Spain.
First flight is expected during 2025, with deliveries to commence in 2028.
Also involving Dassault and Leonardo as key participants, the Eurodrone project will sustain up to 7,000 jobs across European industry, Rosenmann notes.
With a maximum take-off weight of around 11t, the Eurodrone – also referred to as the European MALE RPAS – will be able to operate at 45,000ft with a 2.3t payload. The air vehicle is 16m (52ft 4in) long, with a 26m wingspan. An engine selection for the twin-turboprop remains in the competitive phase.
Separately, Rosenmann says Airbus will begin deployed operations with Israel Aerospace Industries Heron TP UAVs for the German armed forces in Afghanistan next year, initially deploying a trio of the turboprop-powered surveillance type.
Airbus currently provides contracted services for the Bundeswehr in Afghanistan and Mali using Heron 1 air vehicles.