In common with Boeing's F-15, US industry's other similar-aged fighter – the Lockheed Martin F-16 – also has enjoyed a recent orders revival, just as it had appeared to be potentially nearing a production end.
Lockheed's firm order backlog for the single-engined type stood at a combined 38 aircraft for Bahrain, Bulgaria and Slovakia at mid-year. However, in mid-August this was bolstered via Foreign Military Sales contracts worth over $4.9 billion, covering 66 F-16Vs for Taiwan and 24 for Morocco.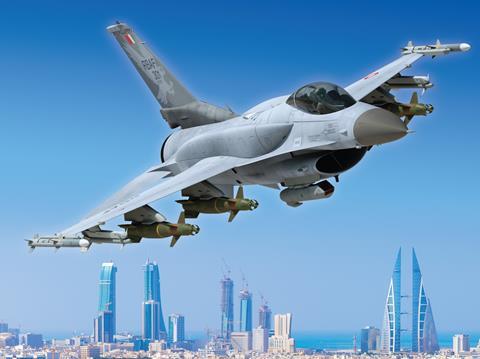 Bulgaria in April 2020 signed for six C-model fighters and a pair of D-version trainers, to be delivered in the GE Aviation F110-engined Block 70 standard. Cirium fleets data shows that the assets – which will replace the NATO nation's RAC MiG-29 interceptors – will be delivered by 2026.
Having in December 2018 signed for 14 V-model examples, also as MiG-29 successors, Slovakia is to become a new F-16 operator from 2022. Lockheed's other on-order aircraft are for existing operators. Bahrain – which has 21 F-16C/Ds – will take 16 V-model examples in the 2021-2023 timeframe, under a deal signed in June 2018, followed by the additional jets for Taiwan and Morocco.
Significant further success could follow, with the US Department of Defense valuing other potential F-16 sales over the next 10 years as worth $57 billion. Washington earlier this year unveiled plans to promote a so-called "commoditised" version of the type, with this standard configuration to reduce acquisition costs and streamline procurements.
Prospects include a 110-aircraft Indian air force requirement, for which the type is being promoted as the F-21.
Final assembly of the F-16 is performed in Greenville, South Carolina, having been moved from Fort Worth in Texas as Lockheed dedicated that site to the F-35's production ramp-up.
But unlike the F-15, there is no prospect of further US Air Force orders for the F-16. The service declared initial operating capability with the A-model in 1979, and received its final production example in 2002. Some early examples are now being converted by Boeing into QF-16 aerial targets for the service.