France has declared initial operational capability (IOC) with the F3-R-standard Dassault Rafale fighter.
Introduced by the French air force in July, F3-R has been developed by Dassault, missile manufacturer MBDA, Safran and Thales under a 2013 contract.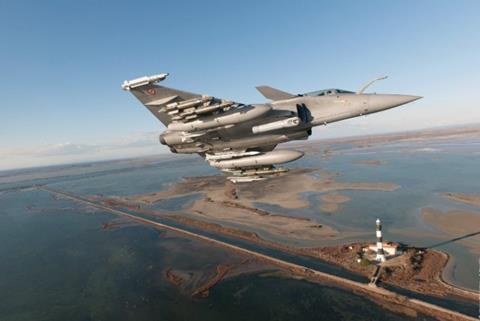 Enhancements include a new Thales active electronically scanned array radar, an automatic ground collision avoidance system and a new electronic warfare system, plus integration of the Sagem AASM air-to-surface munition.
In addition, from the first half of 2020, F3-R Rafales will also gain the MBDA Meteor beyond-visual-range air-to-air missile and Thales Talios targeting pod, says the French air force.
Declaration of the IOC enables the service to use upgraded Rafales for airspace protection and nuclear deterrence missions, says the service.
Meanwhile, Dassault is continuing development work on the future F4 standard for the Rafale, under a €2 billion ($2.21 billion) contract unveiled in January.
Enhancements to sensors and connectivity are planned, along with the integration of the MBDA Mica air-to-air missile.
Validation of the F4 standard is planned for 2024, with some functions becoming available as of 2022.