United Aircraft has delivered the first Ilyushin Il-76MD-90A to be assembled on its new production line, handing it to the Russian government's military aviation transport division in Ulyanovsk.
The aircraft has been constructed by the airframer Aviastar under a ministry of defence contract.
Aviastar managing director Sergei Sheremetov says that, following modernisation of the manufacturing line and introduction of new technological processes, serial production will steadily be raised to 12 aircraft per year.
"To implement this large-scale production programme the company is actively recruiting new employees," he adds.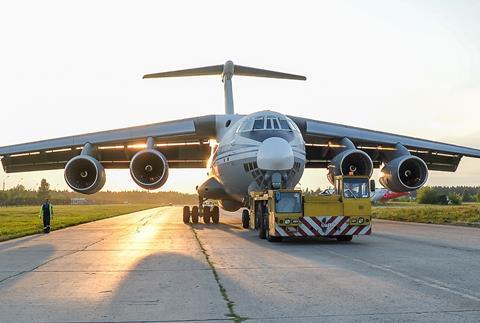 The upgraded line, designed to reduce labour intensity, includes stations for mating the fuselage sections, wings, empennage and Aviadvigatel PS-90A-76 engines, and features laser-positioning for improved accuracy.
Aviastar says it is preparing to transfer another Il-76MD-90A for testing and "several more" are in "various degrees" of assembly.