General Atomics Aeronautical Systems (GA-ASI) has unveiled a new jet-powered design named Gambit, intended to demonstrate so-called loyal wingman capabilities for the US Air Force (USAF).
Revealing its work on the "advanced concept aircraft" on 3 March, General Atomics describes Gambit as "an autonomous collaborative platform designed through digital engineering to speed its time to market and lower acquisition cost".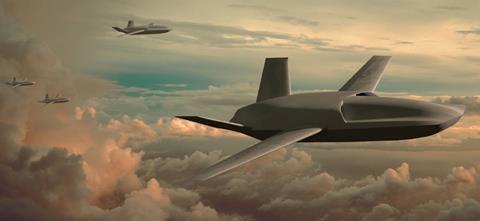 "The jet-powered platform is being built for air dominance and will heavily leverage advances in artificial intelligence [AI] and autonomous systems. Working alongside human-piloted aircraft, Gambit will enable pilots to see deeper into hostile airspace, detect threats first, and provide time and space for critical decisions and actions," it says.
No details of the design have been revealed by the company, but an artist's rendering depicts it with USAF markings and featuring an above-fuselage engine intake and V-tail configuration.
"GA-ASI has led the way in integrating UAS into every aspect of military operations," says company president David Alexander. "Now we're once again pushing the boundaries of what's possible with unmanned aircraft, software, mission systems integration and more.
"Gambit will use AI and autonomy to complete a variety of tasks without being prompted by an operator," Alexander says. "GA-ASI's software and integration systems will support detection and analysis, and provide users with the highest quality intelligence, surveillance and reconnaissance ever possible from an unmanned aircraft," he claims.
The USAF is experimenting with loyal wingman and AI-enabled UAV operations, including via flight tests involving a General Atomics-owned Avenger air vehicle. The service is interested in fielding such capabilities operationally with its future MQ-Next successor for General Atomics' MQ-9 Reaper.