Berlin has awarded Canada-based Top Aces a follow-on contract to extend its provision of adversary air training services to the German armed forces from January 2022.
"Operating out of Wittmundhafen air base, Top Aces has been providing advanced airborne training to the Bundeswehr for the past six years," the company says.
"As Germany's trusted partner, we're delighted to continue training its combat forces well into the future," says Rolf Brandt, senior programme manager for German operations.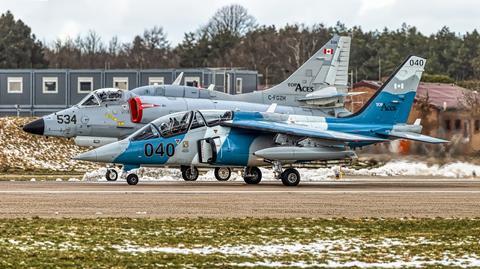 Announcing the deal on 26 April, Top Aces says it "plans to invest over C$100 million [$80 million] in furtherance of the new contract".
The company notes that investments already made in its fast-jet fleet – which includes Dassault/Dornier Alpha Jets and Douglas A-4N Skyhawks – have delivered "new capabilities that will raise the bar for the adversary air industry".
It says that under its new contract, Germany will benefit from its use of the company's proprietary advanced aggressor mission system (AAMS). This allows Top Aces' aircraft "to simulate the most advanced capabilities of modern-day opponents in air-to-air combat": namely the use of active electronically scanned array radars and infrared search-and-track sensors.
"Flight testing and certification on Top Aces' A-4N Skyhawk have been completed, enabling the company to begin delivering AAMS missions to Germany, and to demonstrate this capability to potential customers in North America and Europe," it says.
Cirium fleets data shows that Top Aces' current C-registered fleet includes 19 Alpha Jets, seven A-4Ns, a trio of Bombardier Learjet 35As and a single Israel Aerospace Industries Westwind.
The company also is under contract to begin delivering adversary training services to the US military from later this year, using a fleet of Lockheed Martin F-16s.
"With both commercial and military airworthiness certifications – meeting the most rigorous standards for ex-military aircraft in the world – Top Aces is uniquely positioned to serve the adversary air market worldwide," says chief operating officer Didier Toussaint. "We look forward to continue offering best-in-class service to the next generation of combat leaders across the globe."