Hindustan Aeronautics (HAL) has been edged out of a Malaysian deal for 18 Fighter Lead-in Trainers (FLITs), but is pursuing several other international opportunities.
HAL chairman and managing director C. B. Ananthakrishnan says the company had been hopeful of winning the Malaysian FLIT contract, but it appears that the Korea Aerospace Industries (KAI) FA-50 – one of the two shortlisted aircraft – will go on to win.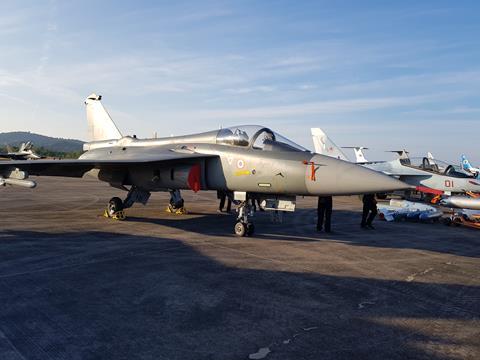 "Notwithstanding this, we are still making our attempts to push through our product as well as Malaysia is concerned," he tells FlightGlobal.
In 2019, the Indian air force (IAF) sent two Tejas fighters to Malaysia's LIMA air show, where the jets performed in the flying display and appeared in the static park. About two years later, HAL responded to the Royal Malaysian Air Force's request for proposals for 18 aircraft, offering the Tejas Mk1A.
In August 2022, HAL announced that it would open an office in Malaysia to support the Tejas bid.
HAL is flight testing the Tejas Mk1A and expects to deliver the first of the type to the Indian air force in February 2024.
Ananthakrishnan says there is also interest from Argentina and Egypt for the light fighter, with pilots from Argentina already having test flown the aircraft in Bengaluru. With regards to Egypt, the requirement is still in its early stages, but HAL has offered local manufacture of the type.
In the 1960s, HAL and the IAF supported Egypt's first indigenous fighter, the Helwan HA-300, by providing a HF-24 'Marut' fighter and sending test pilots to work on the programme. India partially funded the development of the Egyptian type's Brandner E-300 engine in the hopes of using it for the HF-24.
HAL is also pursuing a requirement from the Philippine Coast Guard for seven Dhruv MkIII maritime helicopters. Philippine test pilots have flown the type in India and HAL has completed multiple rounds of discussions, says S. Anbuvelan, chief executive of HAL's Helicopter Complex.
The Philippines emerged as the first export customer for the Indo-Russian BrahMos supersonic cruise missile in January 2022, inking an order worth $375 million for three shore-based missile batteries.
Anbuvelan adds that HAL expects an order for 145 series production Light Combat Helicopters (LCH), with 85 to go to the army and 60 for the IAF. It is currently manufacturing 15 limited series production examples, with 10 for the air force and five for the army.
HAL has two parallel production lines at its helicopter factories in Bengaluru and Tumakuru to manufacture the LCH, with a potential peak production rate of 30 helicopters annually, split equally between both lines.
The airframer also expects an order from the Indian navy for 60 Naval Utility Helicopters within the next two to three years. These helicopters offer additional capabilities as compared to the navy's current ALH MkIII helicopters.