Boeing has flown an export example of its KC-46A tanker for the first time, with the modified 767 on order for the Japan Air Self-Defence Force.
The debut sortie was conducted from the airframer's Everett plant near Seattle, Washington, on 8 February. Already sporting its service markings and equipped with a refuelling boom, the widebody carries the temporary registration N6018N.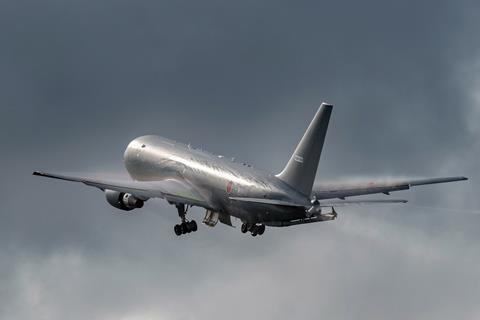 "This successful flight highlights an important milestone as the aircraft now transitions into the certification phase of development," Boeing says.
Japan's first of four KC-46As is scheduled for delivery later this year. The nation ordered its lead example in December 2017, via a Foreign Military Sales contract worth $279 million.
"This tanker's ability to carry cargo and passengers also makes it a critical tool to support humanitarian relief efforts across the Pacific region and beyond," says Will Shaffer, president of Boeing Japan.
Tokyo's new aircraft will join its existing four KC-767J tankers. Cirium fleets data shows that these are aged between 12 and 15 years.
The US Air Force is Boeing's lead customer for the KC-46A Pegasus, with the service having to date ordered 94 examples from a total requirement for 179. The service had by earlier this year taken delivery of 42.