Italy's Leonardo and Tecnam have joined forces to offer a special mission version of the latter's twin-engined P2012 Traveller utility aircraft.
The subject of a memorandum of understanding announced on 23 June, the P2012 Sentinel Special Mission Platform (SMP) will be equipped with Leonardo's Airborne Tactical Observation and Surveillance (ATOS) Light system for intelligence, surveillance and reconnaissance (ISR) tasks.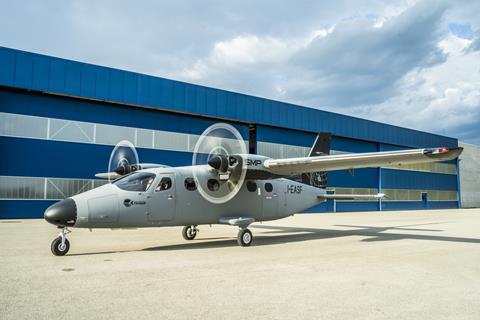 Potential roles for the development include search and rescue support, naval traffic control and electronic/communications intelligence (COMINT) duties, the partners say.
Describing their offering as "a truly unique combination", they say the Sentinel SMP will be capable of "delivering the mission capabilities normally associated with higher-class platforms at a fraction of their acquisition and operating costs".
Once fitted with the ATOS Light suite and at a maximum take-off weight of 3,680kg (8,110lb) carrying up to two pilots and five mission system operators, the development will offer an up-to 9h endurance, the partners say.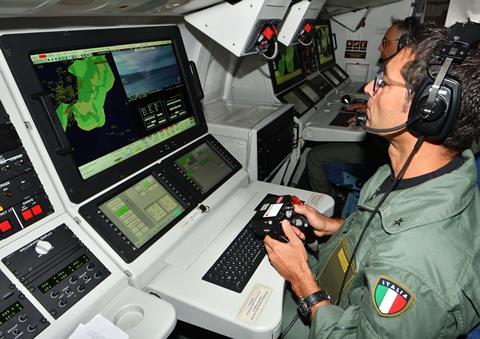 "The payload capacity and large cabin volume allows for excellent mission performance with plenty of space for the installation of sensors and the operators' workspace," they add.
A baseline configuration will feature Leonardo's Gabbiano TS-80 radar and LEOSS electro-optical/infrared sensor, with options including its Sage electronic support measures equipment and Spider COMINT system.
"The P2012 Sentinel [SMP] is the ideal turnkey solution for a number of demanding surveillance missions," says Luca Picollo, senior vice-president airborne systems, Leonardo Electronics.
"This proven, advanced and capable system integrates and widens the ISR offer with a safe, capable, interoperable, and low-cost special mission platform," adds Tecnam chief executive Paolo Pascale.
Tecnam's P2012 Traveller is already in service in a nine-seat passenger configuration. Cirium fleets data indicates that 40 of the Italian-built type are in current use, with US carrier Cape Air the lead operator, with 29 of the type in service.

Craig Hoyle joined Flight International in 2003, and has edited the now monthly title since 2015. He has reported on the UK, European and international military aviation sector for more than 25 years, and produces our annual World Air Forces directory.
View full Profile