Lockheed Martin's board of directors has elected its president and chief executive James Taiclet to an additional role, chairman of the board, starting 1 March.
Former chief executive and current executive chairman Marillyn Hewson plans to retire from the board, the company said on 29 January. Hewson stepped down from her former role as chief executive in June 2020.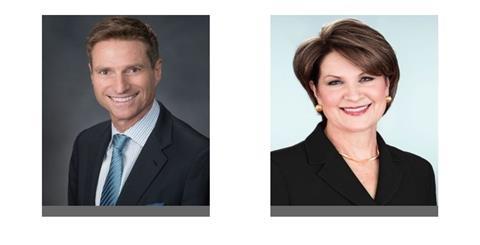 "Marillyn provided leadership that helped us to implement a smooth and successful transition," Taiclet says. "As a result, we were able to accomplish strong financial and operational performance in 2020 and shape a vision for how we will support our nation and allies to meet the heightened threats of the 21st century."
Hewson plans to be a strategic advisor to Taiclet through 28 February 2022, the company says.
Prior to joining Lockheed, Taiclet's resume includes time in the telecommunications and aerospace industries, as well as a time as a pilot with the US Air Force. He led mobile phone broadcast tower company American Tower Corporation from 2003 to 2020.
During Taiclet's first year as chief executive Lockheed announced plans to acquire Aerojet Rocketdyne in a $4.4 billion deal.
The board also elected Gregory Ulmer to the role of executive vice-president of aeronautics. Ulmer served as acting executive vice-president of aeronautics since 1 December 2020, after the role's prior holder, Michele Evans, passed away. He was vice-president and general manager of the F-35 programme since March 2018.
The aeronautics division of Lockheed manufactures and provides support services for the F-35, F-22 and F-16 fighters, as well as the C-130 transport. It also contains the company's top-secret Advanced Development Programs, known popularly as Skunk Works.