Lockheed Martin has performed a debut flight with the first F-16 fighter built at its Greenville site in South Carolina: a two-seat, Block 70 example built for Bahrain.
Completed on 24 January, the roughly 50min flight "included airworthiness checks, such as engine, flight control and fuel system checks, as well as basic aircraft handling", Lockheed says.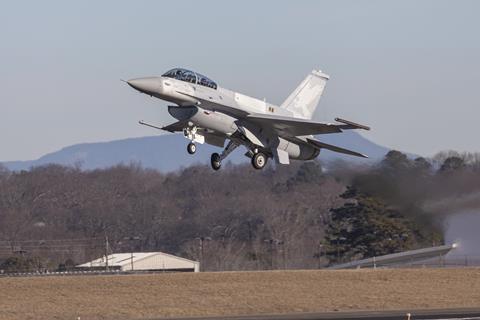 The first Greenville-produced Block 70 aircraft is one of 16 that will be supplied to the Royal Bahraini Air Force (RBAF), under a 2018 order. Later this year, it will become the first F-16 delivery since a final example was shipped from Lockheed's Fort Worth, Texas site in 2017.
Bahrain's new aircraft will add to the nation's in-service fleet of 21 F-16C/Ds. Subsequent video footage released by Lockheed shows the fighter carrying RBAF markings and the tail number 1611.
"This is the culmination of significant development, design, digital engineering, supply chain and production line advances to an already proven platform that will continue to deliver decades of service in support of customers' national security," says F-16 vice-president and Greenville site lead Danya Trent.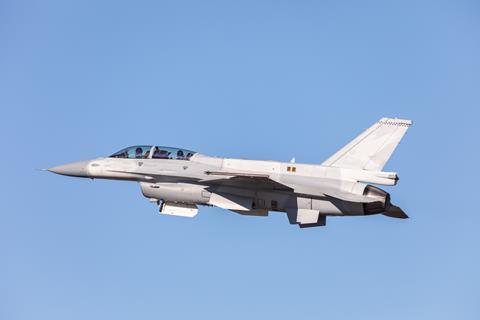 Additional buyers for the GE Aerospace F110-engined Block 70 and Pratt & Whitney F100-powered Block 72 standard are Bulgaria (8), Morocco (24), Slovakia (14) and Taiwan (66), with current firm orders standing at 128.
Further sales are anticipated, however. Jordan last year signed a letter of offer and acceptance (LOA) for eight examples, and Lockheed reveals that the nation "last week signed an additional LOA for four more jets". The company says it is already under contract for long-lead activities linked to the deal with Amman.
Bulgaria also has previously signed an LOA which will double its purchase to 16 of the aircraft. "Once these [deals] are finalised, the backlog will increase to 148," Lockheed says.
Turkey also is currently seeking US support for a follow-on purchase of 40 new F-16s, with Ankara previously having been ejected from Lockheed's F-35 programme.

Craig Hoyle joined Flight International in 2003, and has edited the now monthly title since 2015. He has reported on the UK, European and international military aviation sector for more than 25 years, and produces our annual World Air Forces directory.
View full Profile