Northrop Grumman's recently-unveiled Very Lightweight Torpedo could be air-launch capable on several US Navy aircraft.
The company recently manufactured and tested its first prototype of the Very Lightweight Torpedo for the USN. The miniature torpedo could be air-launched from the Boeing P-8A Poseidon and two helicopters: Sikorsky's MH-60 Sea Hawk and Northrop Grumman's unmanned MQ-8C Fire Scout, the company says on 22 May. The prototype weapon is not yet qualified on those platforms, however.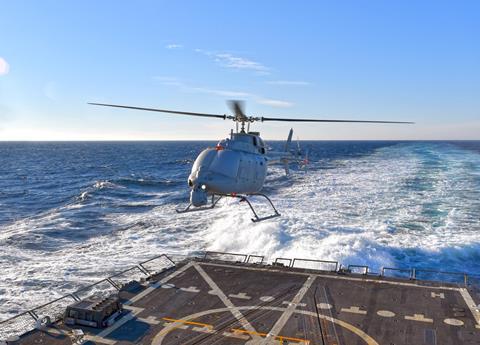 The torpedo is based on a design created by Pennsylvania State University's Applied Research Laboratory that was distributed to defence manufacturers in 2016. Northrop Grumman says it used internal research and development funds to create a lower-cost variant of that weapon. Its prototype is a response to the USN's Compact Rapid Attack Weapon programme, an effort to develop a lighter torpedo.
The Very Lightweight Torpedo weighs about 104kg (230lb), says Northrop Grumman. That is significantly lighter than the 276kg MK 54 Lightweight Torpedo carried by the USN's P-8A maritime patrol aircraft and MH-60 submarine-hunting helicopter.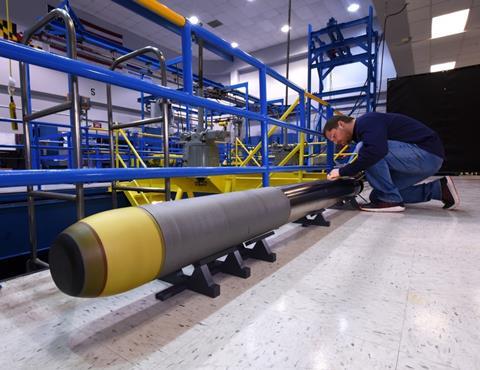 The Very Lightweight Torpedo would be carried aboard an aircraft and free-release dropped with a drogue parachute, says Northrop Grumman.
The company notes the torpedo's viability aboard the MQ-8C by pointing to the USN testing the launch of a similarly sized unmanned underwater vehicle from a Bell helicopter at the service's Advanced Naval Technology Exercise in 2018.
The MQ-8C, which has a payload capacity of more than 318kg, could carry more torpedoes if each weapon weighed less. The unmanned helicopter is not yet outfitted to carry weapons, but the USN has been moving toward giving the aircraft lethal capabilities.
In December, the USN started negotiations with Bell to engineer an aft-cabin door redesign of the MQ-8C to accommodate potential weapon stores, possibly including precision-guided munitions. The Fire Scout is an unmanned version of the civilian Bell 407. The airframe is made by Bell, while the remote flight controls and intelligence, surveillance and reconnaissance sensors are integrated by prime contractor Northrop Grumman.
With the ability to carry precision-guided munitions, such as Hellfire missiles, as well as torpedoes, the MQ-8C might be able to take over many of the lethal ship and submarine hunting tasks of the MH-60. That could be advantageous as the remotely piloted helicopter's large fuel tank gives it more endurance than the manned MH-60. The MQ-8C has 12h of flight endurance with a 136kg payload, according to the USN.