France, Germany and Spain have completed negotiations covering the next phase of their Future Combat Air System (FCAS) activity, advancing it towards the first flight of a demonstrator by 2027.
The step was confirmed on 17 May, in a joint statement from the defence ministers of all three partner nations: Florence Parly, Annegret Kramp-Karrenbauer and Margarita Robles.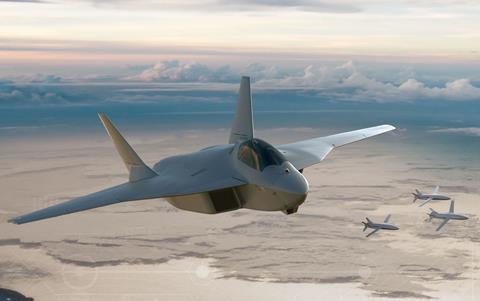 Conducted over recent months, negotiations between the nations' defence procurement agencies "made it possible to reach a balanced agreement between the different partners for the next step in the demonstration phase of the programme", they say. "The corresponding government agreements are now ready for national processes to begin for their formal validation."
Launched at the Paris air show in 2019, the FCAS effort aims to develop a New Generation Fighter (NGF) and supporting remote carrier vehicles, with operations to be underpinned by the use of a so-called combat cloud communications network.
"In an increasingly challenging context where air superiority is seriously threatened by rapidly growing threats, the New Generation Weapons System [NGWS]/FCAS programme contributes directly to the national and European sovereignty and security," the defence ministers say.
Early discussions had involved only France and Germany, with Madrid's participation formalised last year.
"The industrial organisation of the programme has been properly structured to ensure the coherence and effectiveness of the project, taking advantage of the best capabilities of each nation's industries within the framework of a balanced, broad and deep partnership," the nations say.
This, they say, "offers an unbeatable opportunity to strengthen the technological assets of the three participating countries, while ensuring the best competitiveness of the future system".
Dassault is leading work on the NGF, supported by Airbus Defence & Space. The fighter's propulsion system is being developed by a team headed by Safran Aircraft Engines, assisted by MTU Aero Engines and ITP Aero.