Russia's RAC MiG used the MAKS air show to display a trio of new combat aircraft concepts in model form.
Described as the Perspective Multifunctional Shipborne Fighter, the largest of the designs shares similarities with MiG's ill-fated Article 1.42/1.44 Multifunctional Fighter, or MFI. Like the earlier concept, its configuration features canards, outward-canted tail fins and two closely-set engines.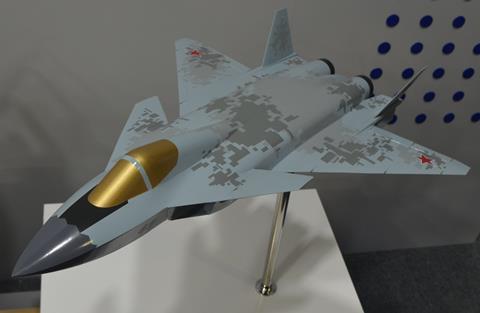 Unlike the model first flown in 2000 but subsequently cancelled, the new fighter has its engine intakes positioned on the sides of the fuselage side, rather than below.
The Russian navy has been seeking ways to replace its ageing aircraft carrier Admiral Kuznetsov between 2030 and 2035, with an associated need for new embarked combat aircraft. MiG's shipborne fighter model could potentially draw on research and development investment made in the Article 1.42/1.44.
A Light Multifunctional Aircraft concept – marked "92" – features a classic layout with moderately swept wings and side air intakes. It bears a close resemblance to the Yakovlev Yak-130 jet trainer, but has a single engine with side intakes, unlike the Irkut-built type's two Ivchenko-Progress AI-222-2.5s.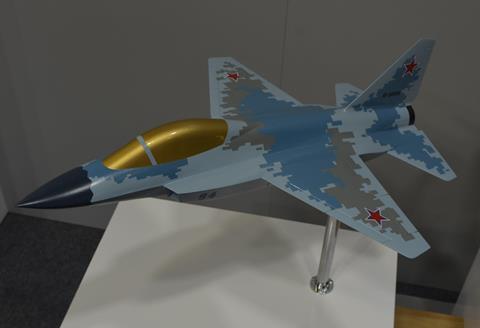 Likely aimed at lead-in fighter training applications, the design could potentially also be adapted for airborne interception or close air support missions. This would place the type in the same category as the Korea Aerospace Industries T/FA-50 Golden Eagle.
MiG also showed an unmanned combat air vehicle (UCAV) concept designated the Perspective Multifunctional Shipborne UAV. It appears to be a further evolution and refinement of the Skat design which was unveiled at MAKS in 2007. The use of an inverted V-shape tail is intended to improve stability and controllability, enabling a greater centre of gravity for operations from an aircraft carrier.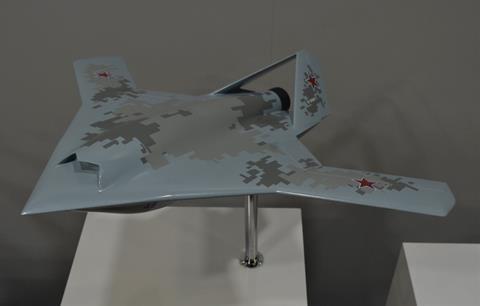 MiG says the shipborne concepts could be combined to meet Perspective Complex of Deck Aviation needs. The UCAV was also depicted carrying an in-flight refuelling pod beneath its fuselage, to support manned fighters.
United Aircraft (UAC) used the show to unveil its Sukhoi-led Su-75 "Checkmate" lightweight fighter, which company officials say could enter operational use from 2026. Touted as having a unit acquisition cost below $30 million, the single-engined design is being offered to potential international customers, with UAC also expecting interest from the Russian air force.