Peru intends to acquire a range of new fixed- and rotary-wing transport aircraft across its armed forces, in part to bolster the country's resources to cope with humanitarian relief operations.
Detailed by Spanish language publication defensa.com, the South American country's shopping list includes additional Leonardo C-27J battlefield transports, heavy transport aircraft – including for in-flight refuelling – more Viking Aircraft DHC-6 Series 400 Twin Otters, plus a substantial number of Mil Mi-17 helicopters.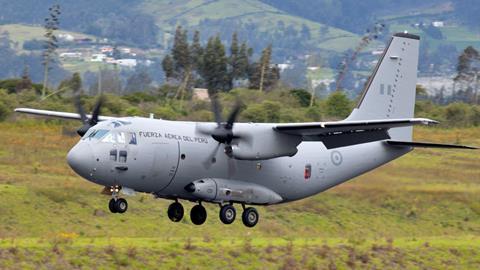 Peru's air force already operates four C-27Js and, says defensa.com, will buy another two before the end of 2020, with six more to follow over the next three years. In addition, the Peruvian army is considering the twin-turboprop to replace a fleet of three Antonov An-32Bs, all of which are approaching 30 years old.
Should Peru proceed with the entire C-27J acquisition, it would make it the largest operator of the Italian-built transport globally and provide the manufacturer with a major boost for the type, which has struggled to win orders in recent years; Leonardo's recent 2019 results indicate a two-unit backlog for an undisclosed customer.
Lima will additionally seek four heavy transports for cargo missions, plus two aircraft for aerial refuelling, says the report. Six more Twin Otters will also be purchased – three each for the army and navy – adding to the 12 examples already used by the air force.
Peru already operates a substantial fleet of Mi-8/17-series helicopters across the three branches of its armed forces, as well as the country's national police, and will stick with the Russian-built rotorcraft for future purchases to maintain commonality.
The defensa.com report indicates substantial numbers of the new-standard Mi-171 are being considered: 24 for the air force, and five for the navy. In both cases they will replace older Mi-8s acquired second-hand in 1992 from Nicaragua and Hungary, respectively.
An additional air force requirement for 12 search and rescue helicopters is also being considered.
Peru sees the recapitalisation of its fleet as a matter of urgency following recent flooding in the south of the country which revealed a shortfall in aircraft to deal with such an emergency.