A Lockheed Martin C-130H tactical transport operated by the Philippine air force (PAF) has crashed while attempting to land on the island of Jolo.
The PAF confirms that the aircraft involved bore the registration 5125, and had taken off from Villamor air base on 4 July, with the crash occurring at 11:30am local time.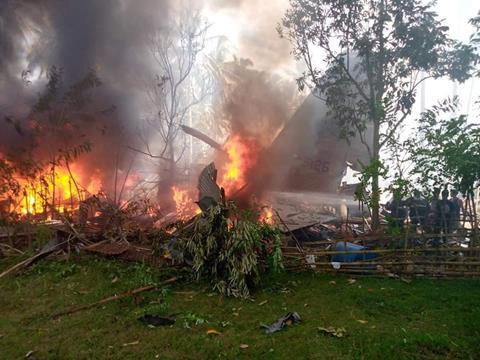 According to media reports citing defence secretary Delfin Lorenzana, there were eight crew and 82 passengers aboard the aircraft, of whom 17 were killed. In addition, 40 were injured.
"I have ordered a full investigation to get to the bottom of the incident, as soon as the rescue and recovery operation is completed," says Lorenzana.
Cirium fleets data indicates that the aircraft was 33.4 years old and served with the US Air Force (USAF) until it was parked in 2016. The aircraft was transferred to the PAF in February as part of a two-aircraft deal.
The US Defence Security Cooperation Agency says the two C-130s were requested in 2019, with the USAF responsible for implementing the transfer. The value of the two aircraft was listed as $24 million.
The lost aircraft was among the PAF's five-strong C-130 fleet.
Jolo is located in the country's Sulu Archepelago, roughly between the islands of Mindinao and Borneo. Jolo Airport's single runway (09/27) is 6,053ft long.
The C-130 crash was the second fatal accident for the PAF in recent weeks.
On 23 June, a PAF Sikorsky S-70i Black Hawk utility helicopter crashed during a night proficiency flight, killing all six aboard the rotorcraft. The PAF only started receiving S-70is in November 2020 as part of a 16-rotorcraft deal.
Prior to the crash, the PAF had received 11 S-70is.
Upddated with quote from Delfin Lorenzana