The US Department of State has approved a potential deal to supply the Czech Republic with eight surplus H-1-series combat helicopters.
Worth up to an estimated $650 million, the Foreign Military Sales transaction would equip Prague with six refurbished and modernised Bell AH-1Z attack helicopters and two UH-1Y transports, the US Defense Security Cooperation Agency (DSCA) announced on 3 May.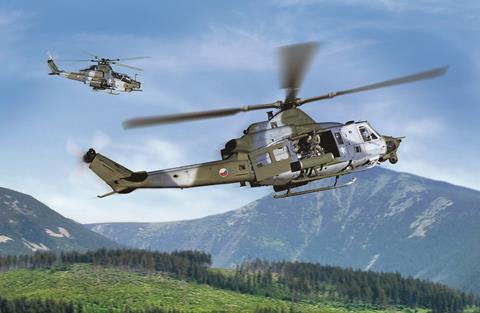 If acquired, the ex-US Marine Corps rotorcraft would add to an on-order Czech air force fleet of four AH-1Zs and eight UH-1Ys, all scheduled for delivery this year.
The DSCA says a support package for the excess defence article helicopters would include communication equipment and electronic warfare systems, plus six spare GE Aerospace T700-401C engines.
"The proposed sale will improve the Czech Republic's ability to develop and maintain a strong and ready self-defence capability," the DSCA says, while also "helping to improve the security of a NATO partner".

Craig Hoyle joined Flight International in 2003, and has edited the now monthly title since 2015. He has reported on the UK, European and international military aviation sector for more than 25 years, and produces our annual World Air Forces directory.
View full Profile