Qatar's first batch of four Boeing F-15QA fighters is en route to the Gulf state, which is rapidly advancing its combat aircraft capability via a trio of acquisition programmes.
Manufactured in St Louis, Missouri, the F-15s began their journey to Qatar late last month, making en route stops including at the US Air Force's base at RAF Mildenhall in the UK on 28 October, from where they were still awaiting departure in early November.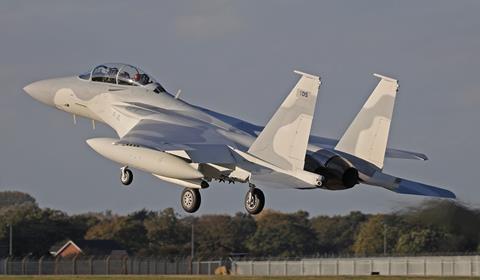 The quartet of jets carry the registration numbers 17-006, -013, -014 and -015. They are part of a 36-aircraft purchase, with Doha also having options in place to potentially double this fleet size.
Cirium fleets data shows that the Qatar Emiri Air Force has also already fielded 27 of its 36 on-order Dassault Rafales, again with the same number listed as potential options.
The service is also due to introduce 24 Eurofighter Typhoons, with its aircraft to undergo final assembly at BAE Systems' Warton site in the UK.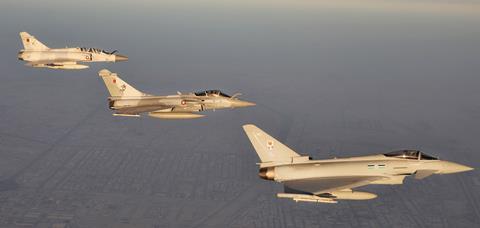 Doha's dramatic fighter expansion – which will see it introduce at least 96, but potentially 168 new-generation aircraft – will transform its combat potential. Cirium data records that its other current assets total just 12 Dassault Mirage 2000-9s, including three two-seat trainers, and six armed Dassault/Dornier Alpha Jets.