The UK Royal Navy's (RN's) flagship aircraft carrier HMS Queen Elizabeth departed Portsmouth on 7 September, after stepping in to replace sister ship Prince of Wales for a series of exercises off the US east coast.
Prince of Wales had left the same port on 27 August for a planned three-month deployment, but a mechanical failure caused significant damage to the vessel's starboard shaft and propeller. The ship was towed back to its base on 6 September, and is subsequently expected to make the journey to Rosyth in Scotland to undergo repairs in a dry dock.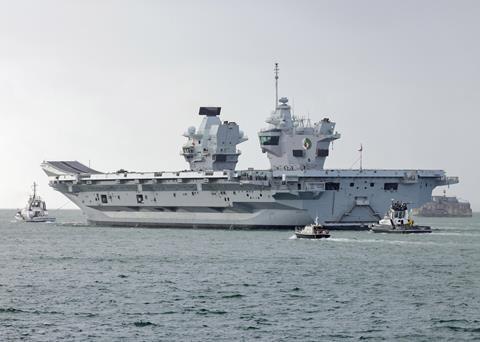 Under current RN plans, HMS Queen Elizabeth will complete "elements" of the Westlant 22 deployment, including embarking Lockheed Martin F-35B strike aircraft while operating off the US east coast.
The vessel will return to Europe later "in the autumn", to participate in other planned manoeuvres. The RN says these "will primarily be focused on operations in the Baltic and work with forces from Denmark, Estonia, Finland, Iceland, Latvia, Lithuania, the Netherlands, Norway and Sweden".
Craig Hoyle joined Flight International in 2003, and has edited the now monthly title since 2015. He has reported on the UK, European and international military aviation sector for more than 25 years, and produces our annual World Air Forces directory.