Rolls-Royce has commenced testing in support of a re-engining programme for the US Air Force's (USAF's) Boeing B-52H fleet, for the first time pairing its F130 powerplants in the bomber's distinctive dual-pod configuration.
The engine manufacturer – which recently began the work using a test rig at its site at the NASA Stennis Space Center in Mississippi – says the process "will focus on crosswind aerodynamic flow, as well as confirming the successful operation of the engine's digital controls system".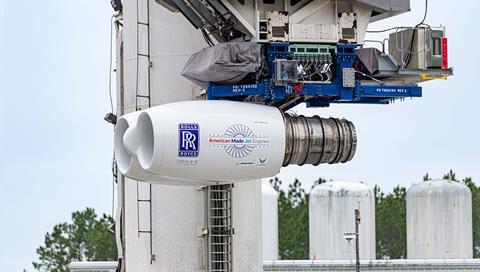 "Early results from the testing have been very positive, with additional test data to be analysed over the next several months," the company says.
Candice Bineyard, R-R's director, programmes – defence, notes that the re-engining effort will "result in higher fuel efficiency, reduced air[-to-air] refuelling requirements, and significantly lower maintenance costs for the B-52 fleet".
The USAF in September 2021 selected the F130 as a replacement for the B-52's legacy Pratt & Whitney TF33 turbofans. More than 600 of the engines will be produced at R-R's Indianapolis site in Indiana.
The propulsion modernisation is planned to enable the eight-engined B-52H to remain in operational use for another 30 years. "F130 engines are so durable they are expected to remain on wing for the remainder of the aircraft life," R-R notes.
In addition to replacing the bomber fleet's TF33 engines, the USAF is also funding a radar modernisation effort for the type, involving the integration of a version of Raytheon's APG-79 active electronically scanned array.

Craig Hoyle joined Flight International in 2003, and has edited the now monthly title since 2015. He has reported on the UK, European and international military aviation sector for more than 25 years, and produces our annual World Air Forces directory.
View full Profile