South Korea might consider changes to its requirement for two additional airborne early warning and control (AEW&C) aircraft.
For some years, Seoul had aimed to buy two new AEW&C platforms to complement its four Boeing E-7A 'Peace Eye' aircraft. This would likely have seen the Defense Acquisition Program Administration (DAPA) request for proposal (RFP) emerge in December, with a downselect possible by the end of 2022.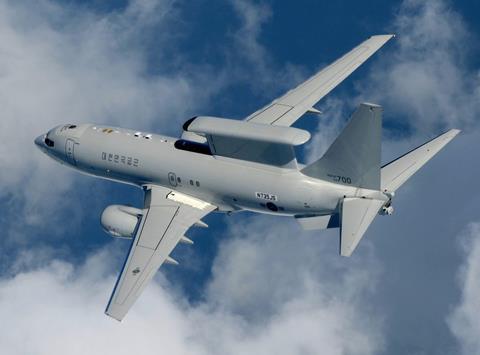 This timeline, however, could change should Seoul decide to expand the scope of the requirement to obtain four – or possibly more – aircraft.
Irrespective of the competition's scope, Boeing, Saab, and potentially Israel Aerospace Industries, aim to compete.
At the recent Seoul ADEX event, Saab reaffirmed its aim to pitch its GlobalEye platform.
"We are close to the customer thanks to our teams of local engineers who successfully manage and support critical national programmes," says Hakan Borin, head of Saab Korea.
"We are already very active in the radar sector and I see more opportunities to expand this relationship in sensors, electronic warfare and ground combat systems, for example. There is also an important opportunity to work together on Saab's GlobalEye advanced AEW&C system; a next-generation strategic capability which can revolutionise Korea's ability to protect its territory in every domain."
At the 2019 iteration of ADEX, Saab noted that GlobalEye's gallium-nitride-based radar operates in the S-Band, as compared with the L-Band for the E-7, a derivative of the 737-700NG. This, it believes, makes it complementary to the Boeing type.
Boeing, for its part, aims to pitch the E-7 for any new requirement.
"Boeing has been privileged to support the Republic of Korea Air Force [ROKAF] in its ongoing 737 AEW&C programme since 2012, when Korea accepted delivery of its fourth aircraft," says the US airframer.
"Although official negotiations have yet to start, we look forward to issuance of the RFP in the ROKAF's requirement for additional AEW&C capability and are committed to working closely with DAPA to find an affordable solution as they finalise definition of their requirement."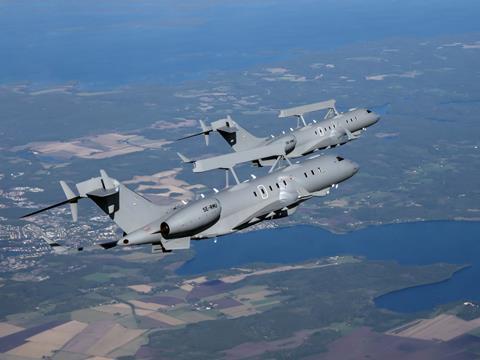 One new element that could affect the competition is whether Washington DC decides to obtain the E-7.
In September, US Air Force (USAF) chief of staff General Charles Brown said that the E-7 is "something we are considering" as a replacement for its fleet of Boeing E-3 Sentry airborne warning and control system aircraft, which are nearing the end of their service life. The USAF has reportedly asked for more information about the aircraft.
Any USAF acquisition would give the E-7 programme much-need scale. For the time being only three countries operate the E-7. Canberra operates six examples, while South Korea and Turkey operate four each. The UK has also ordered three.
A USAF E-7 purchase could possibly give the aircraft a technology refresh that might benefit South Korea.
Seoul's interest in a beefed-up AEW&C capability reflects an increasingly tense geopolitical environment. North Korea continues to invest in ballistic missiles, and is developing a cruise missile capability. China is also rapidly building up both its air force and naval capabilities.