The US Navy has completed the first captive carry test of the Northrop Grumman AGM-88G Advanced Anti-Radiation Guided Missile – Extended Range (AARGM-ER) aboard a Boeing F/A-18F Super Hornet.
The work took place at the service's flight test facility at Patuxent River, Maryland, according to the US Naval Air Systems Command (NAVAIR). The first live firing of the AARGM-ER is expected "this spring".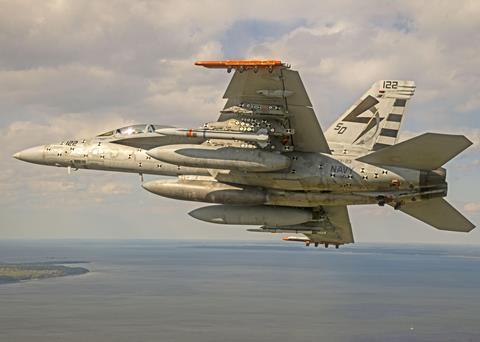 The test demonstrated the weapon's ability to communicate with the aircraft, as well as compatibility.
"Data collected from this testing will support expansion of flight testing with AARGM-ER to the full performance envelope of F/A-18 Super Hornet", says Captain Mitch Commerford, programme manager for the Direct and Time Sensitive Strike programme office (PMA-242). "This flight represents a significant step in the AARGM-ER engineering and manufacturing development phase."
The AARGM-ER is an evolution of the AARGM weapon that will integrated with the F/A-18E/F, EA-18G Growler, and the Lockheed Martin F-35.
AARGM is designed to engage enemy radars. The AARGM-ER features a new rocket motor and warhead that NAVAIR says will "provide advanced capability to detect and engage enemy air defence systems".
NAVAIR, however, has not disclosed the ranges of either AARGM or AARGM-ER.
In November 2020, NAVAIR said it would award Northrop a sole-source contract to start manufacturing the weapon. The AARGM-ER had passed its critical design review in June 2020.
Northrop offers this description of the system: "AARGM is the most advanced system for pilots against today's modern surface-to-air threats. It is able to rapidly engage land- and sea-based air-defence threats, as well as striking time-sensitive targets."