The UK's Team Tempest group has outlined the financial and employment benefits of the nation's future combat air system (FCAS) project, as it prepares to submit an outline business case proposal to advance the effort.
A BAE Systems-commissioned report prepared by consultancy PwC suggests that the Tempest activity could generate over £25 billion ($32 billion) for the UK economy and employ an average of 20,000 people over a programme life running from 2026 until 2050.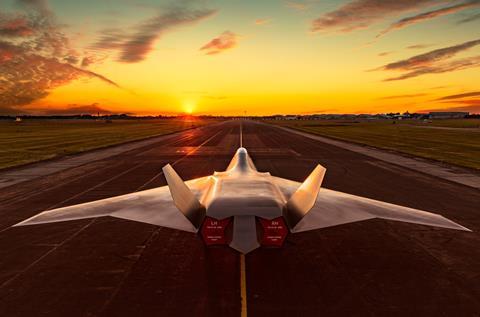 BAE's Team Tempest partners are Leonardo UK, MBDA UK and Rolls-Royce. Their work is already being supported through the involvement of more than 600 companies, including GE Aviation, Martin-Baker, Qinetiq and Thales UK, plus small and medium-sized enterprises, along with academia.
More than 1,800 people across industry and the UK Ministry of Defence (MoD) are already working on the Tempest project, and BAE says this figure will reach 2,500 next year.
Speaking on 15 October, Michael Christie, director of FCAS at BAE Systems Air, singled out the gaming industry's use of virtual and augmented reality technology and the Williams Formula 1 team's experience with rapid engineering as examples of the consortium working to "bring in the innovative, different kinds of partners to ensure that we develop pace in this programme. Pace is going to be key to driving both the military capability arriving on time, but also the affordability."
Italy and Sweden are also participating in the Tempest programme, which seeks to deliver an operational capability from 2035. Christie says discussions with the nations around determining the most efficient way of delivering the capability have progressed "extremely well".
"We are trying to design this as an international programme from the outset, to welcome and integrate partners and give them the freedom of action and affordability that they need," he says. "We are targeting this being very successful on the export market."
Leonardo UK's director, major air programmes and senior responsible owner for FCAS, Iain Bancroft, says the company's engineers are working with BAE "to ensure that the elements of the Tempest system – uncrewed or crewed – will be able to accommodate the sophisticated sensors that will be needed. We are working together to ensure that the platform elements of Tempest will be able to handle the movement of vast quantities of information around the system."
An FCAS platform's integrated sensor-to-effects system would also be required to manage the power requirements for laser or electromagnetic weapons, which are among future concepts being eyed by MBDA.
Bancroft says Leonardo's work with R-R includes assessing the cooling requirements linked to FCAS platforms. One focus area is around whether waste heat could be diverted back into the engines to boost their efficiency, he notes.
R-R's director of future programmes Phil Townley says the company is drawing on its past collaboration with BAE on the Taranis unmanned combat air vehicle demonstrator to design an FCAS integrated propulsion and power system. Innovations being studied include the increased use of additive manufacturing technology, to enable engines to operate at increased temperatures versus previous products. The company says this would reduce specific fuel consumption and carbon dioxide emissions, offering extended-range performance or longer component life.
Meanwhile, BAE human factors lead Suzy Broadbent says research into Tempest's "wearable cockpit" concept has been expanded to include assessments such as psychophysiological monitoring, and the concept of a so-called "virtual assistant" which would provide a link between a pilot and artificial intelligence functions during times of high workload.
Despite the disruption to daily life caused by the coronavirus pandemic, BAE says the industrial team remains on track to deliver its proposal to the UK MoD by year-end.
"The outline business case submission remains in line with the timescale set out in the 2018 Combat Air Strategy," BAE says. This called for a proposal to be delivered before the end of 2020, followed by a full business case submission at the end of 2025.