BAE Systems has revealed images of the UK's Tempest future combat aircraft undergoing windtunnel testing at its Warton site in Lancashire earlier this year.
"Using the latest digital twin technologies, conceptual shapes for the aircraft have been virtually designed and tested," says BAE, with this activity supported by computational fluid dynamics work. Company test pilots then used a simulator to "fly" the next-generation aircraft, it adds.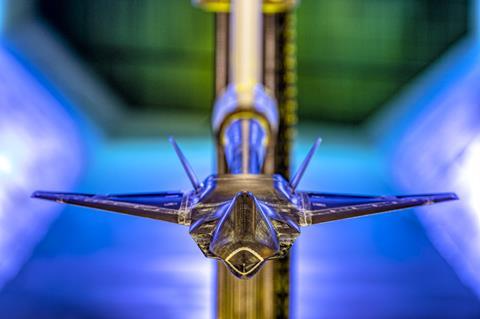 Subsequently, scale models were produced via 3D printing and assessed in the windtunnel, at representative speeds greater than Mach 2.
BAE-sourced images show some of the Tempest platform's key design features. These include a slightly raised rear fuselage section, to accommodate "S-shaped" ducting behind its twin engine inlets, to reduce its frontal radar cross section. Shrouded exhausts will reduce thermal detection from underneath the jet.
The location of the aircraft's so-called "flexible payload bay" is also visible on the fuselage underside. BAE has worked with Harris Release Systems and MBDA on this internal weapons carriage feature.
"Data from these trials is now being used to refine and shape the final design of the UK's next combat aircraft," BAE says. It will also help to inform an outline business case proposal to be submitted to the nation's Ministry of Defence late this year.
BAE identifies the Tempest platform's battery, power and energy management characteristics as key to supporting the use of future technologies such as laser directed-energy weapons. "There's a huge requirement to dissipate heat", the company notes, describing onboard power requirements as "comparable to a Boeing 787".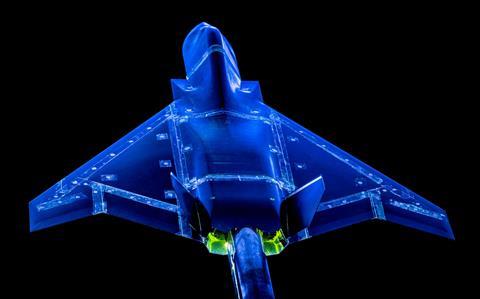 Being pursued by BAE and its Team Tempest partners Leonardo UK, MBDA UK and Rolls-Royce, the future combat air system is due to enter service by 2035. Its development was recently strengthened by an agreement to also involve the defence industries of partner nations Italy and Sweden.