Japan's defence ministry has confirmed that an upgrade programme for 70 Boeing F-15Js will no longer include Lockheed Martin's Long Range Anti-Ship Missile (LRASM) due to cost and schedule concerns.
"Through the negotiations with the US side, it became clear that the installation of the LRASM into the F-15 could cost a huge amount in integration fees and also could delay the entire schedule of the F-15 upgrade programme," says the ministry.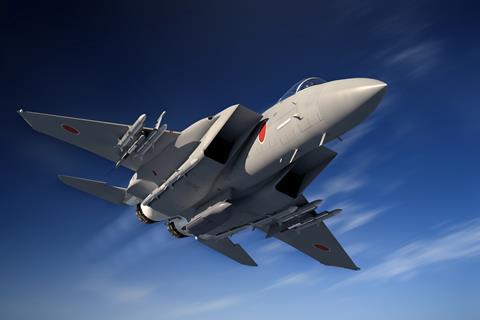 In addition to dropping LRASM, Tokyo wants to review the integration process for the fighter's new radar, electronic warfare system, and central processing computer, as well as "measures against obsolescence". It hopes these efforts will see the cost of the upgrade "decrease to $4 billion".
It aims to upgrade the first 20 aircraft by March 2028.
For at least a year, Tokyo and the US government have wrangled over the costs and scheduling for the enhancement; Japan has also pared back the number of jets to be upgraded to 70, from 98 originally.
In October 2019, the US Department of State approved a $4.5 billion package to upgrade 98 F-15Js to a new 'Japanese Super Interceptor' standard.
To modernise its F-15J fleet, Tokyo originally asked for 103 Raytheon APG-82(v)1 active electronically scanned array radars; 116 Boeing Advanced Display Core Processor II mission system computers; and 101 BAE Systems ALQ-239 digital electronic warfare systems.
Moreover, the F-15J – now serving the air-to-air role – was to receive a new anti-ship capability in the form of LRASM, reflecting Tokyo's concerns about China's growing naval might.
Japanese media reports suggest that Tokyo is considering an alternative anti-ship missile for the F-15J, the developmental Mitsubishi ASM-3.
Boeing and Mitsubishi Heavy Industries (MHI) – which built Japan's F-15Js under license – will be heavily involved in the upgrade.
In July 2020 the pair entered a direct commercial sale deal related to the modernisation, covering retrofit drawings, ground support equipment, and technical publications related to the first two aircraft. The contract laid the foundation for MHI to develop a detailed modification plan and develop facilities and the workforce to start upgrading jets in 2022.
Cirium fleets data suggests that the Japan Air Self-Defence Force operates 155 F-15Js, which have an average age of 33.4 years. The fleet ranges in age from 23.2 years to 41.2 years.
Industry sources have told FlightGlobal that a number of Tokyo's F-15s have significant life remaining in their airframes.