A little more than two months before the end of his administration, US President Donald Trump announced in a tweet that he had fired secretary of defense Mark Esper.
The termination had been rumoured for weeks, though it was denied by the White House and the Pentagon.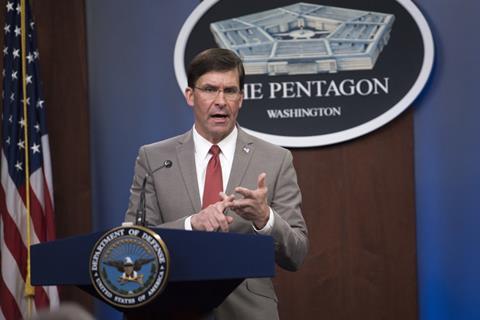 "I am pleased to announce that Christopher C. Miller, the highly respected Director of the National Counterterrorism Center (unanimously confirmed by the Senate), will be Acting Secretary of Defense, effective immediately… Chris will do a GREAT job!" Trump said on Twitter on 9 November. "Mark Esper has been terminated. I would like to thank him for his service."
Miller will be the fifth acting or US Senate-confirmed secretary of defense in the Trump administration's four years in office. Esper had served 1 year and 109 days in the role.
During Esper's US Senate confirmation hearings, US Navy secretary Richard Spencer served as the acting secretary of defense for eight days. Prior to that, former Boeing executive Patrick Shanahan served as the acting secretary of defence for 173 days, but withdrew from consideration for the permanent position after being accused of domestic violence against his wife, allegations which he denied.
Former US Marine Corps General Jim Mattis served the longest time in the secretary of defense role within the administration. As Trump's first secretary of defense, Mattis served 1 year, 345 days before resigning. In his resignation letter, he implicitly criticised Trump for not treating US allies with respect and being "clear-eyed" about threats from US adversaries.
Prior to being the 27th secretary of defence, Esper served as the Trump administration's secretary of the US Army. He also was formerly a senior lobbyist for Raytheon Technologies and a US Army officer.
As secretary of defense, he pushed for increased arms sales to US allies and partners. Most recently, the Department of Defense (DoD) worked to gain approval for the sale of weapons to Taiwan, including the Lockheed Martin F-16 and General Atomics Aeronautical Systems MQ-9B. International sales of the Lockheed F-35 stealth fighter also grew, with prior customers ordering additional aircraft and new customer Poland signalling its intention to acquire 32 aircraft. Under Esper's tenure, the DoD also established a sixth military branch: the US Space Force.
Esper's relationship with Trump frayed over the summer, when he publicly broke with the president on whether to use the Insurrection Act to justify the deployment of US troops in areas of the country experiencing protests and riots in reaction to the police killing of George Floyd. That public disagreement reportedly angered Trump.
In July, Esper banned Confederate flags from US military bases. He also favoured renaming US military bases that were named after Confederate generals.
Nonetheless, Esper was also criticised for being too deferential to Trump. The president teased him over a rumoured nickname of "Yesper".
It is unusual for a US president to fire his secretary of defense in the final months in office. Since the office was established in 1947, there have been 27 holders of the Pentagon's top position and Esper is the only one to have been terminated after a president has lost an election.