The UK Royal Navy (RN) is reviewing its required capabilities for the Crowsnest airborne early warning and control system, after experiencing early shortcomings with the technology.
Carried by some of the Fleet Air Arm's Leonardo Helicopters AW101 Merlin HM2s, the Crowsnest system represents a key embarked defensive capability for the RN's Queen Elizabeth-class aircraft carriers and associated vessels.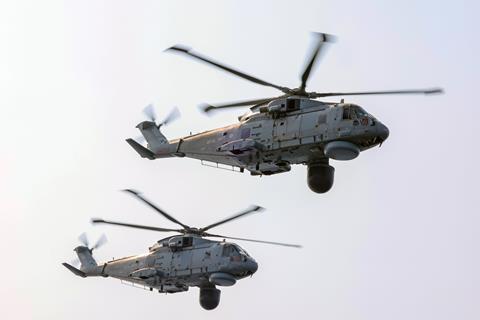 Crowsnest-equipped rotorcraft involved in the RN's current Carrier Strike Group 22 (CSG22) deployment are equipped with the latest 12.2-standard software, and the service's view of the system is "ever-improving", Lockheed Martin UK chief executive Paul Livingston told the UK parliament's Defence Committee on 29 November.
"It is performing well, it is much more stable – we were having a lot of [system] instability problems last year – and that capability is now coming together," he says. "We are looking very hard at what reports come back from CSG22, because we are seeing significantly improved performance."
Lockheed is prime contractor for the Crowsnest effort, which integrates the Thales Searchwater radar and Cerberus mission system previously used on the RN's Westland Sea King ASaC 7 rotorcraft – retired in 2018 – with a new processor.
Livingston points to the challenges associated with modifying the system around the mechanically-scanned sensor, which at one point forced Thales to suspend work for a three-month period, prompting "stronger oversight" by Lockheed.
Factors contributing to programme delays have included a shortage of personnel with experience of Ada-software coding, and the updated certification requirements of the UK Military Aviation Authority, he says. The Crowsnest system needs to achieve more than 10,000 flight-test points to secure approval, versus only 4,000 for the RN's introduction of the original Merlin HM1 helicopter.
Additionally, "The task the radar is being asked to perform is much more complex than in the original Searchwater specification", he notes.
"Since the navy has started using it they have actually changed some of what they may want the system to do in the future," he says. "There is a live discussion between the Ministry of Defence [MoD], the Royal Navy and Lockheed Martin and our subcontractors, on are there additional things they would want embedded in that weren't even in the specification that was signed up to?"
He adds: "Are there things they are not quite so bothered about any more; what is really important to them given their current [operational] context? We are going through those discussions now.
"We are changing the specification, based on what the Ministry of Defence has asked us to re-look at," he says, while adding that Lockheed is "determined to see it through and complete its development".
Lockheed had originally proposed delivering the Crowsnest capability using replacement active electronically scanned array radar technology, via a "Vigilance" system proposal also involving sensor provider Elta Systems. The MoD instead selected the Thales offering in 2015.

Craig Hoyle joined Flight International in 2003, and has edited the now monthly title since 2015. He has reported on the UK, European and international military aviation sector for more than 25 years, and produces our annual World Air Forces directory.
View full Profile