Affinity Flying Training Services has been placed under contract to operate an expanded fleet of Beechcraft T-6C primary trainers for the UK Ministry of Defence (MoD).
Valued at around £65 million ($88 million), the deal with Elbit Systems UK/KBR joint venture Affinity covers the addition and use of four aircraft to be employed over a 12-year period.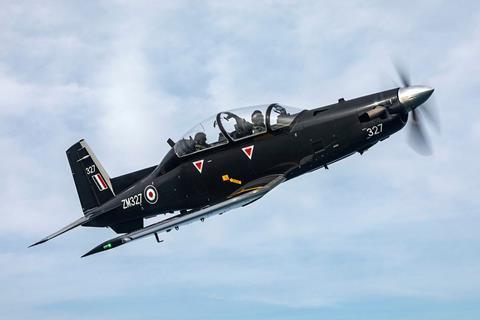 While the new contract was announced on 8 November, the additional four aircraft have already been acquired, and "kept in readiness". Affinity reported the arrival of the extra T-6Cs – which will join its 10 in-service examples – at the Royal Air Force's (RAF's) Valley base on Anglesey in November 2020.
"The addition and operation of the new aircraft will provide increased training support and an uplift in training and flight hours for the UK Military Flying Training System [MFTS] programme," Affinity says. Full capability will be in place by 2024, it adds, with work also including "upgrades to key facilities".
"This contract represents a significant step for the training of Royal Navy and RAF pilots. Following the successful delivery of the first phase of Affinity's flying training programme, we are delighted to build and strengthen our partnership with the UK MoD as we support the training of the pilots of the future," Elbit Systems UK chief executive Martin Fausset.
Affinity managing director Iain Chalmers adds that the company and its MFTS partners "remain committed to supporting and delivering an excellent training system for the UK Ministry of Defence, while also providing opportunities for future innovation in training delivery in line with the Royal Air Force's Astra Campaign to build the next generation of pilots."
Affinity – which also provides fleets of Grob Aircraft G120TP Prefect elementary trainers and Embraer Phenom 100 multi-engine trainers as part of the MFTS programme – says it has delivered more than 20,000 flying hours since services began in 2016.