The head of the Royal Air Force (RAF) says its Project Mosquito effort to demonstrate a lightweight affordable novel combat aircraft is on track for flight testing before the end of 2023.
"Team Mosquito are working hard to meet our objectives of proving dramatic cost and timescale reductions using enhanced digital design and pioneering manufacturing technologies," says chief of the air staff Air Chief Marshal Sir Mike Wigston.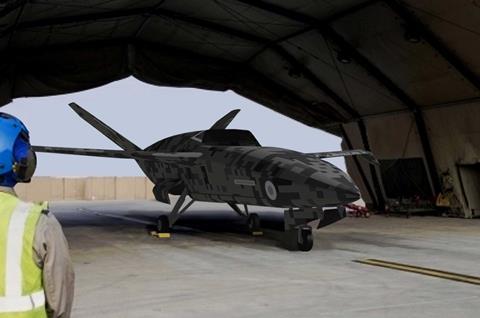 Led by Spirit AeroSystems Belfast, and also involving Northrop Grumman UK, Intrepid Minds and the UK's Defence Science and Technology Laboratory, Team Mosquito was earlier this year awarded £30 million ($41 million) to advance its work to flight status for the RAF's Rapid Capabilities Office.
"This is a game-changing project, in every sense, and it is going really well," Wigston said at the DSEI exhibition in London on 15 September. "I'm confident enough to announce that we will see the Mosquito demonstrator flying in UK airspace by the end of 2023," he adds.
A Mosquito-like capability could form part of a future combat air system for the UK, operating as an unmanned adjunct to a Tempest sixth-generation fighter.
Meanwhile, the RAF's swarming drone experimentation programme is set to enter its next phase during October. This will build on the results of a test campaign conducted in August, which employed "additional payloads and communications systems on multiple platforms".
In July, Wigston said that the service's experimentation via Project Alvina had included using a swarm of more than 20 low-cost drones, with the intention "to confuse and overwhelm enemy air-defence systems".
"Our future fleet of drones will be agile in design and rapid in manufacture," Wigston says. "The operational swarms are likely to be a mix of drones of different sizes, range and endurance, each carrying a variety of bespoke payloads including electronic attack and more."
Also at the show, Wigston announced that the RAF's 13 Sqn will be its second unit to be equipped with the General Atomics Aeronautical Systems Protector RG1. The remotely piloted air system (RPAS) is due to enter operational use with the service's 31 Sqn in early 2024, operating from Waddington in Lincolnshire.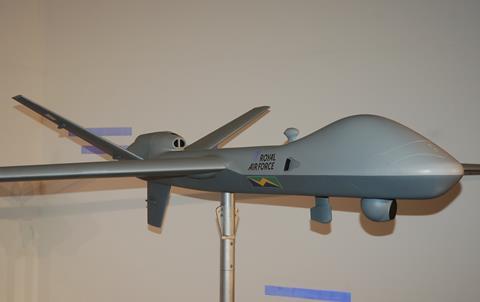 The UK has ordered 16 examples of the Protector – a UK-specific version of the MQ-9B SkyGuardian – plus seven ground control stations, with the equipment to replace its current MQ-9A Reaper fleet.
Wigston says the selection of 13 Sqn, which has operated the Reaper since 2012, marks "a fitting allocation for a historic squadron, long associated with the RPAS role".