Russia's United Aircraft has resumed flight-testing of the Ilyushin Il-112V military light twin-engined transport.
The aircraft flew on 30 March, with a crew of three including two pilots and an engineer, from the airfield of Voronezh-based airframer VASO.
United Aircraft says the stability and controllability of the turboprop, as well as the powerplant operating modes and main systems, were checked during the 30min sortie.
The Il-112V carried out its maiden flight precisely two years ago, on 30 March 2019.
Ilyushin managing director Sergei Yarkovoy says that, since the first flight, the aircraft's systems have been "refined" and work has been conducted to reduce its weight – enabling it to progress to joint testing with the Russian ministry of defence.
Yarkovoy adds that preparations are being made for serial production of up to 12 aircraft per year, ensuring a "steady" stream of work for the company.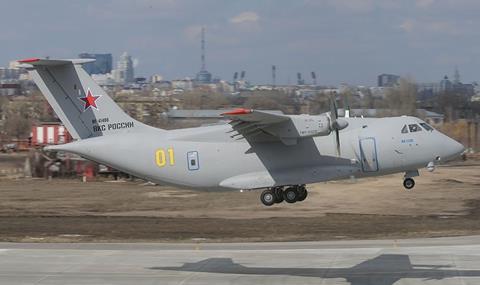 State technology corporation Rostec says the Klimov TV7-117ST engines for the type "worked routinely" during the flight.
The powerplant, with take-off thrust of 3,100hp, is assembled entirely from Russian components and underwent flight trials on an Ilyushin Il-76 testbed.
"At the moment we are completing initial tests to confirm engine overhaul life of 600h," says Klimov general designer Vsevolod Eliseev, adding that seven bench-test engines and three pairs for aircraft testing have been built.
United Aircraft has developed the Il-112V for airborne assault transport roles, to carry military equipment, including vehicles the size of a light van, as well as personnel and weapons up to a weight of 5t. The type will replace Soviet-era Antonov An-26s.
"[It] will be able to operate in the most difficult climate conditions," says United Aircraft, adding that it will be able to serve unpaved runways. The second prototype Il-112V is undergoing life-cycle testing at the Central Aerohydrodynamic Institute, and production has started on two others.