The UK's Marshall Aerospace and Defence Group has confirmed that it withdrew from a project to convert five Boeing 737NGs into E-7A Wedgetail surveillance platforms for the Royal Air Force (RAF) due to commercial considerations.
Boeing Defence UK on 20 May announced that STS Aviation Services would conduct the work, despite Marshall having been awarded a risk-reduction contract last July in support for the effort. A commercial MRO specialist, STS secured the business following a tender process initiated after Marshall's decision to withdraw its participation.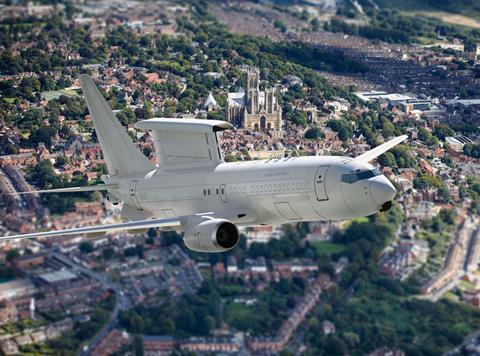 "Despite the very best efforts of all parties, we have not been able to find a way to make the programme commercially viable for our business," says Marshall Aerospace and Defence Group chief executive Alistair McPhee.
Voicing the military support specialist's disappointment, he notes: "As a UK business we would have been incredibly proud to partner with Boeing to play our part in delivering such an important new platform for the RAF, however we have to balance that against what is right for the long-term future and financial security of our independent, private company."
The UK Ministry of Defence in March 2019 signed a £1.5 billion ($1.8 billion) contract with Boeing to replace the RAF's 707-based E-3D Sentry fleet with five Wedgetail AEW1s. Deliveries are scheduled to occur between 2023 and 2026, with the programme's first two airframes being refurbished second-hand examples sourced from the commercial sector.
"Our absolute priority now is to continue to support Boeing and the RAF over the coming weeks and months to ensure that the programme remains on track," McPhee says. "We will, of course, collaborate closely with all parties and do whatever we can to affect a smooth and efficient transition."
Marshall last July said that it expected the Wedgetail conversion work to be performed at its Cambridge airport site to "sustain hundreds of highly-skilled jobs in the area".
Separately, Marshall in mid-May delivered the last of two ex-RAF Lockheed Martin C-130J tactical transports to have been acquired by the Bangladesh air force.
The airlifter – registered 99-5482/S3-AGF – arrived at Bangabandhu air base in Dhaka after stopping in Egypt en route, in order to repatriate a number of Bangladeshi citizens who had been stranded during the coronavirus crisis.