Cargo specialist DHL Express is to establish a new airline in Austria which will operate a fleet of 18 Boeing 757 freighters.
The airline, to be known as DHL Air Austria, will be based at Vienna and focus on European cargo flights, employing some 176 pilots.
DHL commenced discussions with Austrian regulators in February and the new carrier was granted an air operator's certificate and operating licence on 18 October.
The managing director of DHL Air Austria, Barbara Achleitner, says the securing of the authorisations – in just nine months – is a "historic moment".
Three of the 757-200s have already been registered in Austria and the remaining 15 will join the fleet by the end of the first quarter of 2022.
The aircraft have been transferred from DHL's UK division.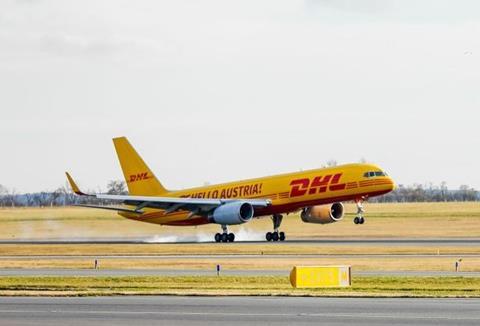 Carriers in the UK have had to restructure their operations since the UK's withdrawal from the European Union, because they no longer have the intra-EU freedoms granted to EU airlines.
Austria was selected as a regulatory centre by the UK's EasyJet, which established EasyJet Europe and transferred a large number of UK aircraft to the Austrian registry in order to maintain intra-EU services.
"After examining several options in various European countries, Austria was chosen as the optimal location for the new cargo airline," says DHL Express.
"In addition to stable political and economic conditions and the excellent global reputation of the domestic aviation authorities, the location also offers the best geographical conditions in the heart of Europe."
As part of the restructuring DHL Air Austria will create over 50 new positions in Vienna, to handle scheduling, training and flightplanning.
"With this important step, we are making our air freight network in Europe more flexible and stable," says DHL Express Austria chief Ralf Schweighofer.
"At the same time [we are] continuing to meet our customers' high demand for cross-border express deliveries and providing them with sufficient capacity."
Austrian state secretary for aviation Magnus Brunner says the new carrier is an "important boost" for the country's aviation sector and its broader economy, and the location decision sends a "strong signal".