Etihad Airways and Airbus will collaborate on sustainability efforts under a programme that will use A350-1000 jets in the style of the carrier's 'Greenliner' initiative with Boeing.
The partnership announced at Dubai air show on 15 November establishes a "formal framework to collaborate for sustainability across a number of core areas on Etihad's A350 fleet, in line with the organisations' respective sustainability programmes", the Abu Dhabi-based carrier says.
The tie-up will focus on areas such as sustainable aviation fuel, waste and weight management, and the development of data-driven analysis, Etihad says. The carrier announced yesterday a related sustainability initiative with A350 engine supplier Rolls-Royce.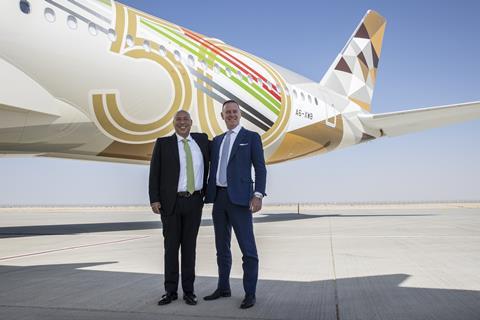 The carrier has one of its five Airbus A350-1000s on display at the Dubai air show, featuring a special livery to mark the UAE's 50th anniversary. None of the five aircraft have entered commercial service and are listed as being in storage by Cirium fleets data.
Etihad says its work with Airbus and other partners, including Boeing, GE, and Rolls Royce, supports the operator's objectives to achieve a 20% reduction in "emissions intensity" in its passenger fleet by 2025, cut 2019 net emissions by 50% by 2035, and reach net-zero emissions by 2050.
"There's no silver bullet for this one, no obvious single act that will provide a solution," says Etihad Aviation Group chief executive Tony Douglas of the journey to reaching those goals. "It's going to require the combination and the sum of many different organisations and governments working together for small, incremental improvements."
Etihad unveiled a wide-ranging collaboration with Boeing at the Dubai air show in 2019, centred on the introduction of a 787-10 in a special 'Greenliner' livery to champion the industry's sustainability efforts. That aircraft is also on the static display at this year's Dubai event.